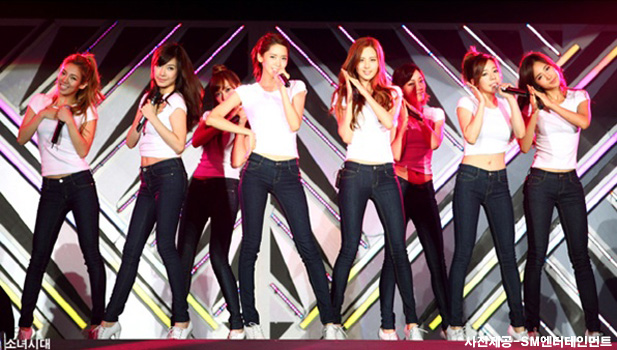 [Editor's note]: Because the original article contained Japanese names translated into Korean, the romanization of those names may not be completely accurate.
The Japanese media attracted attention by analyzing the background and strategy of Girls' Generation's success in Japan as a symbol of East-Asian music's expansion into the world.
Nihon Keizai Shimbun newspaper's monthly Nikkei Entertainment analyzed the reason for Girls' Generation's success through an interview with Japanese director Tsuchiya Nozomu.
Tsuchiya Nozomu said "trying to figure out 'how to take Korea's national superstar Girls' Generation' was the beginning of everything", and that "it isn't just 'Japanese expansion'" but rather SM Entertainment trying to spread Girls' Generation to the world, and they arrived at Japan as the most natural next step.
"Their appeal was almost like watching sports with 9 people as a unified being. I received a physiological shock," said Tsuchiya.  "So 'Tell Me Your Wish (GENIE)' was chosen as their debut song," he revealed.
Originally, when Girls' Generation was expanding to Japan, they were planning to translate about two songs which received success in Korea as their initial Japanese release, and produce their subsequent albums afterwards.
When choosing their debut song, the nominees were "Tell Me Your Wish (GENIE)" and "Gee".
Tsuchiya, while considering "how should we deliver the appeal we felt of Girls' Generation", it was finally decided that "Tell Me Your Wish" was the song where Girls' Generation's group dancing was best represented in and the company, who wanted to have "Gee" as the debut song, was convinced to reconsider.
Nikkei Entertainment said Japan's music largely emphasizes the lyrics, which is an obstacle in crossing borders. They further assessed that "the lyrics of Girls' Generation's first original song, 'Mr. Taxi', also faithfully follow their concept of impact & repeat".
At the end of the article, Nikkei Entertainment referred to Cheuzia Nozomu, saying, "the reason these challenges and aggressive production was possible was because Girls' Generation's ability, work speed, and efficiency was overwhelmingly high" and further assessed that "Girls' Generation possesses all of America's big entertainment, Europe's intellect, and Asia's precision. They are the symbolic presence of East Asia forming the center of the world's musical market."
Source: Billboard Korea – Original article by raphael@billboardk.com
Translated by: Meehyun@soshified.com
Edited by: michaelroni@soshified.com
Have a news item that you think Soshified should know about? E-mail us at tip@soshified.com.
Follow us on Twitter: http://twitter.com/soshified for the latest on Girls' Generation.