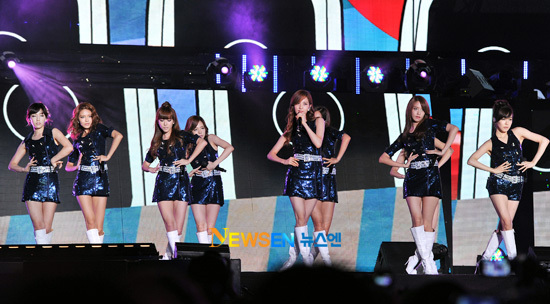 It's been revealed that Girls' Generation is highly popular amongst Japanese comedians.
Japan's 'News Post Seven' published a title on the 20th reading, 'Girls' Generation Fan Comedian 'Nai Nai' Okamura 'Meet in A Dream". According to what was printed, recently, the number of passionate Girls' Generation fans has been increasing rapidly amongst Japanese comedians.
During Girls' Generation's Japan concert, Japanese comedians attended, held fan lightsticks, and cheered them on. One member of a Japanese broadcast station stated, "You could say that pretty much everyone, from rookies to veterans, are all fans of Girls' Generation." Comedy unit Nai Nai Okamura said on the radio, "I met them in my dream," and Koto complimented Girls' Generation's dancing.
Another writer at the station said, "Imada is a great fan, and even went to 3 of the same tour concerts. He didn't sit in the section for those who have a relation to the group, but watched from regular sections with other fans," supporting the thought of Japanese comedians' love for Girls' Generation.
This was another confirmation of Hallyu stars Girls' Generation; not only stealing the hearts of Japan's general public, but their celebrities as well.
Source: Newsen
Translated by: ch0sshi@soshified.com
Edited by: JeremyJay22@soshified.com
Have a news item that you think Soshified should know about? E-mail us at tip@soshified.com.
Follow us on Twitter: http://twitter.com/soshified for the latest on Girls' Generation.