Welcome to another edition of Soshified Spotlight. We have two new members to feature this month: NL2 (Le) and 2.0 (Andrew). 2.0 is featured in Part 2. Le joined Soshified in August of 2009, and has not only been active on the Soshified website (especially with videos), but also in real life as a volunteer for Soshified during last year's SMTown LA. His hospitality knew no bounds, as he let a group of SONEs stay with him and his roommates when their plans fell through, and even treated them to a lot of goodies just because he thought he should. Of course, there's a lot more to Le, so read on for his hilarious and interesting answers.
What is your first name?
Le (pronounced "Lee", my real first name have been omitted since high school… this is just easier for everyone )
How did you find out about Soshified and why did you decide to join?
I stumbled on to a clip titled "Asian girl speaks english" on YouTube one night. As it turns out it was Jessica speaking english on a radio show. After asking around I found out about our beloved girls (during the beginning of Genie promotions) and I blacked out… Next thing I know, I practically downloaded the whole Soshified video archive in one month (luckily I have unlimited bandwidth!), wearing pink wristbands and leased my car to go see SNSD concert in LA! (that last one was a joke, I would never lease my car… it was my mom's)
How did you come up with your screen name?
It's an abbreviation of my full name. N____ Le N__ L___ = NL(square) = NL2… yeah it's… yeah you see why I tell people to simply call me "Le" now?
Where are you originally from, and where do you currently reside (city and country for both)?
I am a 100% Vietnamese born and bred… ok maybe not bred but raised. I have been living, for the past 15 years, in Montreal (Canada)
If we were visiting you where you live for one day, where would you take us? Why are these places so significant?
Montreal is a city where the old style blend gracefully with the modern city life. We can go to the Mount Royal where we can overlook the beautiful city or to the Montreal Old Port and walk along the riverside. However, Montreal is also known for having the biggest underground complex in the world. Connected areas include shopping malls, universities, hotels, condominium, banks… It would take a whole day and a few melted ice creams to walk through it all
What are the Mount Royal and the Montreal Old Port?
The Mount Royal is basically a mountain (more like a hill based on its relative height) that is smack-dab in (near) downtown Montreal. The Mount Royal park is known for its beautiful autumn foliage as well as extensive hiking trails. It has many monuments and tourist attractions as its features and is one of Montreal's largest green spaces that also offers many viewpoints to downtown Montreal. (dang I sound like a tour guide! oh well… this way folks!)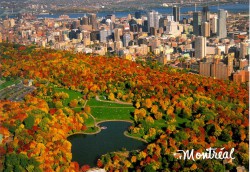 The Montreal Old Port is basically a walkway stretching for over 2km along the St-Laurent River. The riverfront offers access for walking, cycling, roller-blading, quadricycle, pedalo and Segway rentals. It also hosts the Montreal Light Festival, the Matsuri Japan Festival and others. With little Italy (Italy-town?) right at its side… you got great atmosphere and good food… what more can you ask for.
In a way, Montreal reminds me of Seoul; Han river and the mountains. If that doesn't do it for you, Montreal is home to the world renowned Cirque du Soleil and the Montreal International Fireworks Festival (The largest pyrotechnics competition of its kind in the world). So what are you waiting for? Come on over and enjoy Montreal!
ps: just don't come between October and April… trust me, you wouldn't like winter here… it's colder than Jessica's stare
Tell us a little about your life. What do you do full time and in your free time?
Full time university student, SONE and fun time engineer. Yeah you heard me, I make fun happen. Oh and I also work part-time as a technology consultant/technician at Staples.
What are you studying in college?
Well since my dream of becoming Bruce Lee didn't work out, I am currently studying computer science in university… Yes I know, typical study field for an Asian guy who's not smart enough to become a doctor
How do you usually make fun happen? Could you give us some examples?
haha you called me on that one huh… Well I mean… I personally just like to laugh and have fun. Therefore, wherever I go, I try to lighten up the mood as much as I can. I don't mind making a fool out of myself as long as everybody is having a good time. An example, I guess, would be my Korean class. Since it is at 9am on a Saturday morning, not everyone is fully awake or hyped up but my antics usually managed to get them into the mood to have fun with the class and to participate more. For instance, when the teacher wanted us to write a few simple sentences to practice verbs and the correct syntax, most of my classmates would have basic things like "I like to eat Bibimbap" or "I like to watch movies". While my sentences would somehow end up being "Taeyeon is mine" or "I like to catch Pokemon every Sunday". Basically just dumb stuff that even the teacher wasn't sure if I had actually said it…
What's the most interesting thing about you and/or that has ever happened to you?
Being able to travelled to LA to see SNSD in person and participate in the Soshified Meet up was, for lack of a better word, unforgettable! Not a lot of people know but fun fact nonetheless; I was the A/V guy for the LA SMTown Soshified Meet up. I set up the projector and microphone system for the event. I wasn't around much during the meet up because Jerzideva and I were busy running errands left and right. However, I still remember rushing back to the event because we got a call that the video and microphone system was down. So I came running into the room, fumbled around underneath the table checking wires and finally, saved the day! I still remember people cheering when the video and microphone came back on… I was (quietly) proud of being able, in my own little way, to keep the event going smoothly
I hear you were quite the hero during last year's SMTown LA to a few fellow SONEs. Would you be able to share the story?
Well it wasn't anything special really… There were just a few fellow SONEs that found themselves in an unfortunate situation so I did my best to help them out, what anyone would have done I guess hehe.
(Editor's note: I asked Le to tell us a little bit more about what he did at this point.)
Weeks before the concert, I volunteered with helping people sign in the hotel with um… [I'm gonna leave out her name ]. Jerzideva, MLX and I (all from Montreal) were down in the lobby when we ran into leiyuling and her friends. They were having trouble contacting their room leader, so I called up the person that was taking care of rooms arrangement for this trip (who I was suppose to be helping, who was out shopping instead ) to find out who their room leader is. We then attempted to contact him for 1-2 hours with no success . I then asked Jerzideva, since he is older, if it was alright if we let them use our room to freshen up and rest (they took the bus from Mexico to LA!). That night, I was going around the hotel with leiyuling trying to find which room their room leader reserved but even the organizer only had his email with no other pertinent information (name, telephone number, address ). With no help from she-who-shall-not-be-named and their money already sent to their room leader, I had little choice but to consult with Jerzideva to let them bunk in our room (we slept on the floor don't worry hahah). So from that moment, I didn't want that bad start to ruin their trip so we try our best to take care of them and counts them as part of our group. In their last day, while running out of time, I decided to rush them to the Korean mall so that they could buy a few CDs before leaving and I made sure to drive them to the bus station and see them off myself.
Like I said, I don't think it was anything out of the ordinary, just tried my best to help out people that were in need
For people who are first meeting you (like most of us), how would you describe yourself?
I would come off as a little shy and quiet at first but that would probably last a good 2 minutes then I'll be cracking jokes until dawn. I think most would become quickly familiar and comfortable around me as I am as down to earth as it gets and it is in my nature to take care of the people around me. I'm also very easy to talk to, if you're the type that likes to crack jokes, I hope you can keep up with me. If you're more into serious talks… well… I'll be over here joking around so come get me when you're ready to laugh. All jokes aside, I can be mature when needed but my inner kid doesn't see a reason not to have fun the rest of the time
Tell us some things that most people don't know about you that you think they should.
I am a provincial level competitive badminton player and am undefeated in the 5 years old and less category. Although that one toddler almost dethroned me… Seriously though, besides participating in provincial tournaments, I like to play video games, paintball and I also am a big movie buff. But my real life source comes from music, an everyday necessity. And I love to sing, even though I'm not very good . Finally, something that not a lot of people know, I love to cook despite my lack of time to learn/practice
Is there anything big in your life that you're working on? (This can be related to school, career, hobbies, family, friends, etc.)
I am basically just trying to graduate and start working because I have big plans for my parents and family. So hopefully I'll do them proud
Are you able to share with us what these big plans are?
My parents have been separated for 15 years and my mom have been working (at times 3 jobs) and raised me single handedly, all for the sakes of my education. So I would nothing more to be successful enough to reunite them and to buy her a bigger house, she deserved it. Her little dream also include a small coffee shop in a mall or something, somewhere she can have a little fun while working. Nothing would make me happier to be able to repay my parents for all their sacrifices and hardships
What are your interests outside of Girls' Generation?
I don't understand the question… what OTHER interests could there be? 지금은 소녀시대! 앞으로도 소녀시대! 영원히 소녀시대! and food…
How did you first become a fan of Girls' Generation?
I was pretty defenseless against the awesomely dorkiness of SNSD. Gee caught me off guard, sucker punched and completely knocked me out and Genie finished the job. It's impossible not to love them.
Who is your favourite member and why?
aaahhh… that's a sneaky one… I know the real answer to this question! The final answer is "I love all of them"! *ahem* Taeyeon. What do you mean why? why is the sky blue? why do unicorns like Skittles? It's just the natural order of things
What is your favourite Girls' Generation song and MV and why?
Into the new world was, is and will always be my favourite. I think everyone would agree that there are just so many great and meaningful reasons to love that song/MV. For me, the song/MV always bring a smile to my face and make me sing along… even if it's in my car… in traffic… with little kids pointing at me and crying of terror
What is your favourite Girls' Generation moment?
There are just so many but I think I'll allow myself to pick out 2. The first is the love/bond of our girls during that episode of Kim Jung Eun's Chocolate. You know the one I'm talking about. The second would be when our girls won Disk Daesang
How has Girls' Generation impacted your life, in specific areas or even as a whole?
I guess relatively speaking. it hasn't been so long ago. However, I cannot recall how I used to be when I wasn't a SONE. SNSD is my little joy in an otherwise routine life and you can't help but feel good as soon as you see them
What do you like most about Soshified, and why? Any section in particular you're attracted to?
I am a Soshi video devotee. With this occasion I'd like to give a thank you to all uploaders and Soshified Subbing Team for an amazing job keeping my bandwidth usage at an all-time high
Is there anything else about you that you would like to add?
[i] I'd like to give a shout-outs to all SONEs around the world, may the pink ocean always shines brightly in our lives and in our hearts. Special thanks to Soshified and staffs for making all this possible (website, events, etc.) and to my friends in Mexico (Betzy, Yolanda and Laura) whom I've had the pleasure of meeting in LA. *award speech end music* and also…
Huge thanks goes out to Le for participating in Soshified Spotlight this month (and as a fellow SONE, thumbs up for your good deeds in Los Angeles). As usual, you can submit nominations for future Soshified Spotlights if you'd like to participate or if you'd like to get to know a fellow member better. Instructions on how to do so can be viewed at the Soshified Spotlight Solicitation announcement.
Compiled by: residentbenchwarmer@soshified.com
Graphic by: cioco@soshified.com
Have a news item that you think Soshified should know about? E-mail us at tip@soshified.com.
Follow us on Twitter: http://twitter.com/soshified for the latest on Girls' Generation.