We promised we'd be back with Andrew this week, and here we are. Earlier this week in Part 1, we featured Le, or NL2 here on Soshified. (If you haven't read it, and it seems like that's the case for many, it's a great read. Really funny guy.) Andrew, or 2.0, is also quite interesting, as you'll see below. He's had many ups and downs in his life, but is doing quite well for himself now, so much so that through connections he was able to go backstage during last year's SMTown LA and meet every Girls' Generation member and other SMTown artists. Here's what he had to say about his life so far:
What is your first name?
Andrew
How did you find out about Soshified and why did you decide to join?
Well initially, it was at the beckon of my friend by the name of SuNo. He had been working on YoonyulTV at the time, and we had known each other from a previous forum that idolized french pop artists. We both got into SNSD at approximately the same time, through the same person, and we were hooked and needed a home with fellow fans.
I joined after initially being reluctant due to the site's massive features and member count, but well, I guess we know the forum won me over in the end.
What made you get over your reluctance to join Soshified?
It was, and I say this with great pride, the result of being extremely bored, on an extremely boring day.
I figured, "Why the hell not?" and signed myself up after the recommendation. It was initially, a little bit of a rough start, as I knew very little people, but I quickly gained friends which helped me assimilate myself in easier afterwards.
I stuck quickly to the few people I knew, including the ones that got me to join Soshified, but eventually I branched out through the Southern California thread, and began to really expand my footprint on the site during the pre-SM Town LA excitement.
After the concert, well, my peer pool began to exponentially increase, and now this place has become, quite the accidental home.
…and i'm loving it always.
How did you come up with your screen name?
Well initially it was something thrown out there due to my general laziness to come up with something, but my current username was the result of me joining a chat filled with SM Town LA volunteers. I met another Andrew, my hyung to be exact, and to differentiate between us the people in the workings called us Andrew 1.0 and Andrew 2.0. Eventually it became just the numbers and now you can see and feel the presence of both 1.0 and 2.0 on these forums.
He became a little green boy and I became a little poop-covered catastrophe, and despite our difference in color we still manage to find a way to love, accept, and respect one another. That is of course, because he is awesome.
Where are you originally from, and where do you currently reside (city and country for both)?
I was born to parents of Japanese and Chinese ancestry in an island nation called Indonesia. I was raised in a very high-class environment with drivers, servants, cooks, and the works involved.
Due to some inner family drama my father was sent to America to find work, and after not hearing from him in over a year, my mother and I decided to go to America and find him. Well we did, and when we did we had absolutely no means of returning, so I became a slum boy that had to work his way back up the social ladder. I currently reside where I last moved to, California, in the lovely USA, where I can now find my individual path.
What happened that made you not be able to get back to Indonesia, especially having been raised in the upper class?
Anyone who's lived through a certain period of time there know of the riots. During such it prompted my escape as well, as it became too unsafe for people like us.
We would have returned, but we found that when we arrived in California, my father already had a job, but we could not fund ourselves to return.
We could not get financial help from anyone either, not even those who deemed close to us, so we became stranded family black sheep.
It was a tough time for us, to drop down quickly, but eventually as I grew older, I realize that isolation was the greatest thing that ever happened to me.
Recently I managed to visit Indonesia again after 13-14 years of not seeing the majority of my family, and after reconciling and seeing how everyone has grown, I smile at how much more fortunate i've become, the space of where I live, the freedom I have over my own life…
I guess karma serves a blessing or two every now and then.
If we were visiting you where you live for one day, where would you take us? Why are these places so significant?
I'd first of all take you to one of our famous Southern California SONE meet ups, they're among the most entertaining out there, and it'll be my honor to show you all around and introduce you to the gang. We're all friendly, don't be scared!
Second of all, Venice Beach, one of my favorite places, with tons of street shops, street performers, basketball, it's a Mecca of entertainment, culture, and other medical wonders. I used to perform occasionally there, when I was 17 or so, and it can be frightening, so I'd recommend you bring a buddy along if you're going to try this, unless you're absolutely sure of your amazingness.
Finally, I'd take you all to my ranch, 23 acres of nothing but boring avocado, lemon, and eucalyptus trees. It's an outdoor blast if you all like the outdoors, that is. Off-road vehicles take us anywhere we want to go, and you'll all leave with a free bag of Hoss avocados, courtesy of me.
How often do you SoCal SONEs have meetups, and what do you do there?
We split them up really.
There are "Official" ones that d1ana sets up, and they usually have the biggest turnouts because they are the most carefully planned and the most captivating to be in as a fan.
Aside from that we have "Unofficial" ones that any of us set up here and there, because we all technically know each other by now, and they're a tad more casual, with more focus in socializing than being a SONE.
In Dee's meetups, we do anything from eating, karaoke, watching SNSD stuff, playing Soshiland (the new monopoly based board game made with the hard work of Cyrus and others!), and, since recent times, play video games like Super Smash Bros.
In the Unofficial meetups, which I set up here and again, it's often just eating, socializing, shopping, karaoke, the kinds of stuff SoCal SONES are forced to do due to K-town.
There really isn't that much difference, I love going to Dee's meetups due to the amount of people they allow me to socialize with.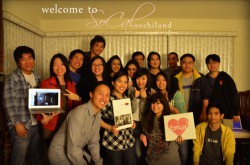 December SoCal meetup. Andrew is the tall one in the back.
What did you perform at Venice Beach? Why is it so scary?
It was nothing hard, mainly delta blues and reggae music (two genres I also love), and it was only out of fun. I didn't exactly reap a fortune out of it.
Regardless performance is part of me, I used to perform in front of Borders, sing in churches, wherever's good enough!
It's a tad frightening because Venice Beach isn't an area renowned for, average nine-to-five workers.
It's an expressive area, with people who are both sane and insane. Art, music, culture, and substances dominate the area, and well, you can see why it can scare people initially.
Some people literally park old VW buses there, live in it, and in the day time, set up a guitar amp, an umbrella, and just start performing. They don't move anywhere else, that is their life, they're dirty as hell, bugs circle their unkempt hair and their sweaty brows, but their souls are so vibrant.
I never hesitate to leave these people a little tip, you should see the smile that pops up on some of them, it's a feeling you just can't get too often.
How were you able to adjust to going from the upper class to the slums, and how were you able to work your way back up, especially to owning a 23-acre ranch?
Luckily I was young, so everything was blurry and I was too naive to realize the gravity of the situation.
It was the lack of toys and personal belongings that forced me to find different forms of entertainment.
99 cent store balls to throw around and shoot at hoops, basketballs became soccer balls and dodgeballs as well.
Every day after elementary school, I would accompany my mother, who began work at a Vietnamese restaurant cook, after school from 4pm to when she returned home at 8pm.
The boss didn't like me running around the shop much, so I would be forced into the restaurant drinks storage, which was where I started drawing to pass boredom.
My and my family all worked our best at what we did, pinching pennies, hunting bargains, and the only thing my parents asked out of me was to stay in school, which I did.
I became probably, the only Asian in my elementary school, and it wasn't renowned for being a scholar's elementary school. My friends there lovingly called me "Chinito", which I accepted. I can recall the greatest things i've ever done for my parents at that age was place top 3 in the county spelling bees two years in a row, as well as earn an award at a mathematics competition. Eventually, we were able to afford our own house, and from there, work our way up to a ranch.
Sometimes, how you live life is more important than any college degree.
Tell us a little about your life. What do you do full time and in your free time?
I'm a musician, an artist, a sound mixer, a gardener, a traveler, and a fond tea enthusiast.
My occupation is sound mixing, I am trained by my stepfather to work recording equipment for studios such as Universal and Warner Bros.
I opted not to go to college first to pursue this chance at real life experience and it has been swell, I eventually want to pursue however my original dream of being a musician.
I want to produce, record, and occasionally perform, to become an industry man with full knowledge of both aspects of the music business. I'll get there eventually, but as of now, I'm taking things with small baby steps.
As for things I do in my free time, it's usually this, the whole soshified thing. I like being with the people, working with the people, it's a good social thing for me that I do not regret. Other things include playing my instruments, and finding new places to go to.
Finally, I love tea, and I love collecting teas. I have an interesting assortment of teas, even tea seeds that actually grow living biological thingamabobs in the water almost instantaneously, and of course, nothing beats enjoying said tea warm with a small dose of clean honey!
I'm an avid fan of Japanese films, samurai flicks, horror flicks, comedy flicks, especially anything made my Takashi Miike or Akira Kurosawa.
My favorites are "Yojimbo", "Red Beard", "Crows Zero 1 & 2", and "Thirteen Assassins".
I also grow sunflowers, wonderful sunflowers.
What's the most interesting thing about you and/or that has ever happened to you?
Well about me, I play a lot of instruments, it's one thing I can do believe it or not, and it's one thing I am not afraid to say that I do!
I often talk like Robert Downey Jr. sometime, our personalities are almost identical, despite the fact that he is leagues more successful and hairier than I am. I've eaten puffin before, PETA can now campaign against me now, whatever floats the boat, though to be fair I did not like the taste so I think I'll be leaving the puffins alone for a long time now.
I do not like The Miami Heat by the way, and my commentary on their team can be some of the most interesting material anyone can ever hear. As members like gotjackie may know. Yes it's a shout-out.
As for something interesting that has happened to me.
Well, avid SONES will be interested to know I've met all of the girls, but only Jessica on a talk and personal basis.
As for standard interesting, I guess it would have to be meeting a childhood friend I have not seen in more than a decade in the recent January 8 fan meet in Los Angeles, and to think we are now both SONE, such a beautiful thing no?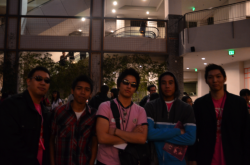 Andrew and friends trying to be cool at the January 8th fanmeet.
What instruments do you play?
Piano (15 years)
Electric Guitar (7 years)
Electric Bass Guitar (4 years)
Drums (2 years)
Mandolin (1 year)
Lap-Slide Resonator (1 year)
Shamisen (1 year)
Uilleann pipes (4 months)
Alto Saxophone (2 months, revisited)
I recommend anyone to learn piano first, most of what I know is self-taught thanks to the theory and wide range over scales, technique, and octaves that piano has given me.
A lot of what you do in other instruments can be drawn from what one learns from piano. I was able to pick up the guitar faster by myself after being relatively skilled in piano than kids who took up guitar with professional teachers, but did not have previous musical experience.
I say electric guitar and electric bass guitar simply because, the things I do on these instruments drastically deviate from what most people do on their acoustic counterparts.
I prefer electric simply because of its variety, most people say they're soulless, but they're just listening to the wrong kind of players in my opinion.
Two-handed tapping, floyd roses, mid/treble/bass control, pinch harmonics, and an arsenal of pedals, amplifiers, and electronics allow any electric player to command supersonic presence.
I recommend anyone who wants to be truly diverse in the guitar to look up Paco de Lucia, Derek Trucks, Al Di Meola, Paul Gilbert, Raul Midon, Pat Metheny, and Stevie Ray Vaughan.
Anyone who wants to be truly diverse in bass guitar should look up Jaco Pastorius (first and foremost), Victor Wooten, Marcus Miller, Stanley Clarke, Les Claypool, John Entwistle, and to the big leaguers: the mighty Billy Sheehan.
I know you're dying to tell us about your encounter with Girls' Generation.
Not really, it's a boring story that only gets me into more and more situations where I have to be telling it.
I much prefer a conversation about guitars and sunflowers, but for this situation, since it's special, i'll tell you the general gist of it.
I met them during SM Town LA, I define "met" as seen up close and personal.
Jessica was the only actual member I "talked" to, and Yuri the only member I sat next to.
This was of course, during the actual concert, so I didn't get to see very much of it.
The details of which, I don't share very often, but you get the idea now right?
For people who are first meeting you (like most of us), how would you describe yourself?
I'm insane, I'm a lunatic, I'm a tad flamboyant mixed with a perpetual tipsiness that gets people uneasy. I have a small fear filter meaning I'm not afraid to approach someone I know little about, and it also means i'm not afraid of doing idiotic and embarrassing things in front of people I don't know. I can be blunt and overly expressive over my opinions and people that don't like it can give me a few dollars to shut up, but we all know they're wasting their money because I'll be back blabbering a few minutes later.
However, after you interest me as a person and it's very easy to do that, just make sure you're not overly cliquey or sensitive to snide remarks and you're a good person in my playbook, you may realize I can be quite friendly, quite loyal, and very supportive of what your dreams, goals, and ideas are, and I'm definitely more than willing to put my resources and knowledge into helping a friend achieve them.
Tell us some things that most people don't know about you that you think they should.
I've had it rough, I was born into wealth and had everything I wanted at my fingertips, and to have that taken way from you in a blink of an eye, and have to climb back up to reaching even half of what you had is an experience most children do not get. I've lived in trash homes, motel rooms, lived weeks off of scraps from grocery store chicken, and spent my days drawing away in a closet stored with sodas trying to forget what a crappy existence I lived in at the time. To be where I am now after noticing where I have been is frightening, it's frightening but it exhilarating. These experiences have occasionally made me senile, cynical, untrusting, but it has also given me a perpetual ray of hope and optimism.
Nothing piques my interest more than anyone, any person with a dream and an idea. Nothing irks me more than a person who believes he or she cannot achieve that dream or that idea. I'm living proof of a fight worth fighting and I'm 100% alongside anyone who wants something that is in the company of stars. I'm fiercely loving when you get past all the act and cover of me, and you can quote me on that one.
Is there anything big in your life that you're working on? (This can be related to school, career, hobbies, family, friends, etc.)
Well aside from getting a band to decent fame, there is one thing…
…I want a SNSD comeback in the United States, I want their concert here, and I want it soon and often.
I want Western Hemisphere SONES to experience what many have missed, I want them to also swim in an ocean of pink, to take part and become one in the sea of love and dedication that we represent. I will do my best to make sure this happens, we in the united states deserve it, every sone on this side of the world deserves it.
…I want SONES to unite at a gigantic meet, a convention of our scheming, with infinite things to do and an infinite amount of people to meet. Where the only icebreaker required is to simply ask, "What is your favorite SNSD song?"
I want to make this fandom the best dang fandom anyone can be a part of, I'm working on making it more than just that, I'm making sure this fandom evolves into Family.
Also, I'm making short films, fun fun fun fun, looking forward to the… Final results!
Some of these short films may be soshified related, hrm hrm hrm.
I'm also working on growing a sunflower arrangement for a space outside my house.
Wonderful sunflowers…
What are you doing to get Girls' Generation to come back to the United States?
Supply and demand, good friend, a general rule of economics.
K-pop is a business, and therefore it falls under the wing of economic rule.
If we can offer the demand, they can give us the supply.
It's the "demand" tidbit that gets me a little excited, because it's more of a social determinant now.
If we can get people to start being more active, more proud of being a SONE, more willing to show it, and more willing to spend for it, then one can expect SNSD to be here a lot more often. The problem here are "closet fans", fans who aren't active, fans who don't want to do ANYTHING to contribute but still wish for a concert to attend anyway.
If one isn't going to help, then they aren't going to help the situation get better.
What I have to undertake is almost a form of pseudo-propaganda campaign to make people more open in their fandom, prod them with a flail and make them get out there and start actively wanting what they want.
Another key to this is footage. Footage is proof that throws words and stories into the gutter.
If we can get people to be active, to show demand, and if we can videotape it, then we can compile it, and it'll be a showcase.
There is nothing that cannot be done if there is attempt, the only thing that brings us down is the reluctance to do so.
It doesn't matter if one way is the right way or the wrong way, what matters is if you're SONE, you get out and reach out your hand.
SNSD is a baseball being batted around the world after SM's pitch, what's better at catching a home run ball straight into the crowd… one hand or twenty thousand?
You decide.
What are your interests outside of Girls' Generation?
Well I'm a big time rocker. I love good old classic rock bands, 80s metal bands, newer metal bands. Anything with a guitar that gets my soul machine oiled. Gotta say my favorite bands are, Mr. Big, Opeth, Jamiroquai, The Who, Tokyo Jihen, and Bela Fleck and the Flecktones.
Aside from that I'm a big fan of artists like Guthrie Govan, Eric Johnson, Steve Vai, Marty Friedman, Ryuichi Sakamoto, etc.
In the pop genre I'm partial towards Perfume, Sophie Ellis-Bextor, Lady Gaga, and of course, Madonna.
Some of my guiltier music pleasures include Neon Trees, Kenny G, Black Keys,and Britney Spears.
Gotta show love to my dj's too, Nero, Justice, Sonny Moore, Shinichi Osawa, Air, and Armin van Buuren.
Good bands for getting me in certain moods are Septic Flesh, Reel Big Fish, Yoshida Brothers.
Composers like David Buckley, Hans Zimmer, even indie ones like Denny Schneidemesser.
How did you first become a fan of Girls' Generation?
A French forum really, a Polish member there posted a thread about this new girl group that was out in South Korea and I gave it a look, I liked the idea but I wasn't really hooked, but I called myself a fan. It wasn't until Gee hit until I got the real craze, and I used that French forum as the hub for my fandom since there were also tons of people rapidly getting converted from the current artist to this new nine member girl group. Genie became my favorite era because it was when I started getting really attached to what they do, how they perform, and who they were as nine, and I'll never forget the nostalgia rush of those days. I'll never forget the people that I have to thank for making me SONE, big shoutouts to SuNo and Przemyslav.
Who is your favorite member and why?
Initially it was Yoona, but it rapidly became Jessica.
I am proud to be lover of the ice princess and really it's because of her quirk and bluntness that made me like her a lot.
She was, like Tiffany, some kind of an outsider, and I enjoy that individuality. Sica does what she wants and that's awesome, it means she's pretty boss like that. Her fashion tastes are usually always exquisite, herself always adorable in any situation.
My admiration for her only increased after I got the chance to meet her personally, and whatever the haters say, they can keep on saying it but this brother's got information straight from the source. Sica is absolutely one of the nicest people, ever, she may not be the most openly approachable in appearance but she definitely is, you hear fan accounts with her everywhere, and there's good reason for that. Sure she isn't too outspoken most of the time in real situations but she would be the most likely to sign your album out of all the nine alongside Tiffany, in my honest opinion.
She's real, that's Sica for you, real. She isn't always sugarcoated, but I think SM learned that they don't really have to, people love Sica the way she is.
What is your favorite Girls' Generation song and MV and why?
Definitely my favorite song is Let's Talk About Love, it's got a good beat, a beautiful synth that makes me tremble, and the standard reliable SNSD delivery. As for music video, my favor definitely goes to the Japanese Genie Dance Version, and Into the New World.
The reason those two are my favorite music videos are simple, the dance version from Japanese Genie is lethal, a dose of nothing but nine straight to the eyes and bullets to the chest. Into the New World however, is art, it's got a quality that hasn't been matched in a long time, some sort of simplicity, that adds to the nostalgia vibe the song often gives out, especially to fans that have been with them from the very beginning of it all.
What is your favorite Girls' Generation moment?
I'm a big fan of YoonYul and JeTi moments.
…especially JeTi Hello Baby.
How has Girls' Generation impacted your life, in specific areas or even as a whole?
It's made me more determined, more happy, and of course, it has given me a wide pool of friends that I can match alongside those I already have, sometimes even surpassing them. The friends here I make are quick to become family, and not a day goes past when I don't talk to people like taeyeonsheart or 1.0 or SooYoona, it's just a wonderful feeling.
The things I'm involved here with soshified right now are exciting, it's definitely hard work but I've never been more excited to help out with anything than the stuff they do here.
Plus, the girls have meant a lot to me, more than just celebrities or a band I like, it's been my gateway to so many opportunities and so many options, I'm not the only one, some people here can brag they went all the way to Seoul to spend a few days with nothing but SONES and a concert date with the girls themselves.
It's also got me motivated to start growing a fresh new batch of sunflowers again, I've got empty soil all over the land that could use a few…wonderful sunflowers.
Where did your affection for sunflowers come from?
Well, when I was around 9 or so, I took pride in growing four sunflowers to a mighty peak. I would wake up early before school every day just to check on those sunflowers, and give them an affectionate pouring so that they may later grow. When I moved out of that area, I left the sunflowers behind, just a part of me miss them, but yes, they're a wonderful plant.
Wonderful, wonderful plant.
What do you like most about Soshified, and why? Any section in particular you're attracted to?
I love its magnitude, it's sheer power, the strength of all of its sections and the limitless content that allows anyone to express and be heard. I'm a big fan of Soshified Around the World, as an international SONE it's very interesting to hear of the people that also have heartwarming stories of how they became a fan in the environments and regions they live in.
I'm also a big fan of the news and stuff, big props to the Writers, I always enjoy a good read, and when it involves SNSD and/or Soshified, how could I resist?
Why did you decide to join the Soshified staff, and why the particular job you have now?
Well I figure I had to eventually, I just needed the right job that fit my bill. Project leaders would've been something I could've done but when the opportunity for this spot became open I had to jump on it.
This allows me to work with the public, both general and beyond, and I love that, I love communication and I want to be a representative of what this site is, what it stands and fights for, and what it can become as time goes on!
I've always said I wanted a more active role in making things happen, and this is the loveliest place to be!
What exactly do you do? Do you enjoy this position? What do you like about it?
Well we as PRs get this question a lot, the rest of the staff and I. We basically are site ambassadors, we make sure soshified is represented as accurate as it is possible in the news, and various other things. We maintain the image of the site, and we build upon it as an organization that is non-profit and a brand that is growing. Us four haven't really specialized what each of us does best at yet, but being well-rounded is always a want.
Generally though, I like to imagine myself as the idea-guy. I'm filled from head to toe with so many different things I want to make happen, so I have a lot of weird opinions to throw out. I like to be communicative and do a lot of the "mano y mano" talking so I guess that makes me the main mic and amplifier of the group.
I'd put Eumi and Dandan as our grinders, they do a lot of crunch work and occasionally, translating. I love them both because they make the job a lot easier, well, relatively, even within their somewhat busy schedules.
As for Will, he's a lot like me, he's an idea guy, and he definitely likes field work, so i'd give him the wild card label as well. You never know what this dude can pull off.
Plus, we are still going to have to discuss our code names. I think I want to be called The Fireman, I don't know why, it rings a bell though.
What is your favorite project that you've ever been involved in?
Well, we haven't much to brag about yet, but were working on a few things to make this site as flagship as we can possible.
A few inklings though, we are all big dreamers, and we have a few outrageous things we want to make happen, so keep a close eye and ear on that one!
Are you able to shed some light on these plans you have brewing?
A personal project i'm undertaking is making sure things are being filmed, and that people are willing to be seen on camera and be able to shout into that microphone what exactly they want, and how they're going to do it.
V-logs are popular nowadays, and if we can get more international (especially USA SONES) fans to talk about k-pop/snsd events more often, then we've got a flood of demand entering sites like Facebook, Twitter, YouTube, etc.
The viral market is still effective, and networking is key, some of us are just dead wood nowhere near the fire that is the SNSD craze.
If that fire starts to engulf all of us, then it will sure as hell make one big smoke signal that tells SM where we are, and where we want them.
Sorry, I love extended metaphors.
Any interesting experiences when interacting with members?
Well aside from people never knowing what it is we really do, I'd have to say I like the members that want to vicegrip ideas and make them happen. I enjoy talking to the ones that perhaps, want the girls to have a concert in New York City, or the members that are looking to get a cover done right. Conversations with those members are always interesting, because it will always lead to something cool.
I have to say though, I like playing faux-mod sometimes on the shoutbox.
Do members ever get mad that a non-moderator is moderating in the Shoutbox?
Not really, I get a little saddened though, there are still mischievous little ones that continue to do something after they are told not to (not just by me).
Luckily my shade of color is, just a tad darker than the Yellow Moderators, one can say i'm just two or so tones away.
Is there anything else about you that you would like to add?
Well, I'm not sure what anyone else wants to know?
Since I do travel often, please don't hesitate to follow my paths and meet up with me, I always want to get to know a new SONE, so be there for me and I'll return the favor if you're ever out in California. I love who I know and I gotta say thanks to all of them, you shape me and who I am, and I think I'm alright, so thank you all for making me turn out this way!
Soshified is a big place and i wouldn't have been able to survive in it without the help of a few people.
Thank you Kunal for being the guy that always holds a conversation with me, you make sure my life is never silent and boring. You're the man.
Thank you Lauren for being the person I can always bully (until recently), and being the person I can rant to about my woes and situations!
Thank you Andrew 1.0, I miss ya lots, wish you lived closer, imagine all the stuff we could accomplish, and will accomplish!
Thank you Cyrus for, driving that Honda Civic Si.
Thank you Sarah for, well, paying for dinner, you know how hard it is for me to let anyone do that.
Thank you Cami for taking a picture of me leaving a single occupancy women's restroom, why I have not used that as a profile picture yet is beyond me.
Thanks Elsy for buying my photo book, I'm such a bad bad person, I promise when I get back from my travels to give you the money in full plus a MASSIVE tip, or else a samurai's death awaits me!
Thank you Tim for, just being the coolest guy period. Period. Of all time! All time!
Thank you main SoCal SONES, you've made this region rock, and let's keep it that way!
Thanks Damir and JD for being good pals on this forum and the last.
Thank you Sir Aces, for being the not-so-passive entity on the shout box I can always hold a conversation with.
Thank you residentbenchwarmer for conducting this interview, you're a beast at this job and you rock the purple better than Quest Crew.
And finally…
Thanks to the rest of the PR stff, you guys are to-the-core awesome, and there's a big shiny future for us, you better believe it!
I guess, look forward to the future, I've got big plans brewing inside my little he'd and for you guys I'm willing to stretch endless lengths to make sure they happen. Soshified can only grow larger, and eventually, Korea will hear us, and they WILL give us another chance to see the girls in YOUR home country. SNSD is going #globalgeneration
Let's trend and make it count folks!
Huge thanks goes out to Andrew for participating in Soshified Spotlight this month. As usual, you can submit nominations for future Soshified Spotlights if you'd like to participate or if you'd like to get to know a fellow member better. Instructions on how to do so can be viewed at the Soshified Spotlight Solicitation announcement.
Compiled by: residentbenchwarmer@soshified.com
Photographs courtesy of: 2.0@soshified.com
Graphic by: cioco@soshified.com
Have a news item that you think Soshified should know about? E-mail us at tip@soshified.com.
Follow us on Twitter: http://twitter.com/soshified for the latest on Girls' Generation.