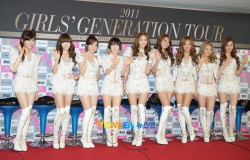 On the 9th of August, it was revealed that the charity project, "Help African Children", will be held on the 12th of August at 3PM at the Plaza Hotel in Seoul. On this day, the UN Secretary-General, Ban Kimoon, will be there along with SM Entertainment's Hallyu Star, Girls' Generation. Other notable Korean stars such as f(x), SHINee, Park Taehwan, Lee Bonjoo, Kim Yoonjin and Shin Hyunjun will be present too. This project was started by the UN Secretary-General, Ban Kimoon, after he brought his request of wanting to help Africa to UNICEF.
This project which is supported by the Korean UNICEF Committee, will bear the slogan, "Together For Africa". The aim of the project is to collect as much money for the children in Africa as possible within the next 3 months. All proceeds from this charity project will be used as emergency aid for children in the Eastern parts of Africa such as the Horn of Africa through the International Red Cross and UNICEF.
Although Girls' Generation is currently taking a short break from their hectic schedule, it is encouraging knowing that they are still actively taking part in charity projects and remaining so down to earth.
Credits: Source: www.news.nate.com
Written by: gayqueenful@soshified.com
Translated by: ch0sshi@soshified.com
Have a news item that you think Soshified should know about? E-mail us at tip@soshified.com.
Follow us on Twitter: http://twitter.com/soshified for the latest on Girls' Generation.