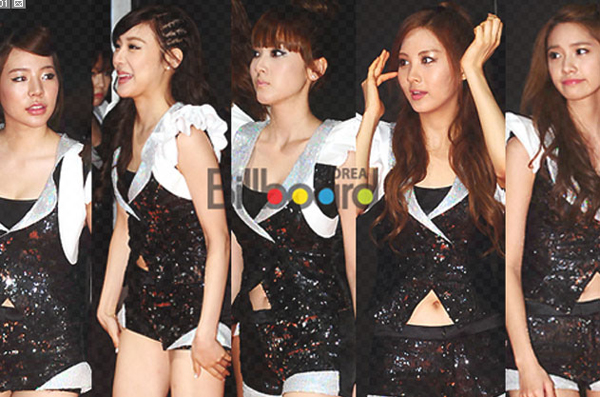 On August 14, at the "2011 SUMMER SONIC" held at Makuhari Messe, when we asked Girls' Generation, who was about to go on stage, "Which of Girls' Generation's charms have appealed to overseas fans?" their answer was an unexpected one.
The nine members were clearly modest and did not present a showy manner, unlike many popular stars. It seemed like they were calmly taking in the happiness of standing as the last act of the final day of one of Japan's greatest music festivals, "SUMMER SONIC".
With the night coming to an end in Japan's Makuhari Messe Convention Center, we met with Girls' Generation in the waiting room. They said, "People being so enthusiastic after seeing us shows just how much love K-Pop is receiving," disregarding their own fame. As their strongest point, they stated, "When looking at foreign artists, there are a lot of soloists. On the other hand, all nine of us have our own colors, and have fresh appeal [to people]." They emphasized, "I think the charms they see when we perform, which can't be seen through a solo artist, gives us a higher appraisal."
The nine member female dance group, Girls' Generation, have been gaining attention in Europe as singers that make others want to dance along to their upbeat, dance rhythms. They are moving towards the worldwide market by overcoming European prejudice that Asians are at a disadvantage musically through their talents and efforts.
Girls' Generation showed the confidence they gained through recent overseas stages by saying, "When looking at K-Pop artists, each member has their own charms, and they all vary from singing and dancing well."
However, as the bias of "dance groups are artists that make you concentrate more on their performance than singing" is high, it is inevitable that problems have followed the girls. On this, they stated, "Rather than showing how perfect we are, we want to show us doing our best. Whether it's our singing or performance, rather than a perfect stage, we want to be able to give strength to people." They added, "If they feel happiness watching our performances, I think how we are now is more precious than [people's] judgements. That is the exact reason why we get on stage."
One of Korea's biggest music companies, SM Entertainment, debuted the nine-member girl group on August 2, 2007 with their first single "Into the New World". From there, they have grown into a popular idol group with the release of hit songs "Oh!", "Gee", and "Tell Me Your Wish (Genie)". Girls' Generation's official debut into the Japanese market in November of last year, in particular, led to them becoming the first Korean girl group to rank first in the Oricon daily chart with their second single "Gee". Their first official album "Girls' Generation", which released in Japan in June, sold approximately 500,000 copies, showing their success as Hallyu artists.
Girls' Generation stated, "When debuting overseas, rather than wanting to create records with numbers, our goal was to enjoy any stage we perform on, and make it so we can give strength to one another. But honestly, we wonder what the limit of 'Girls' Generation' is in the foreign market."
Starting on September 2, Girls' Generation will be meeting with Japanese fans once again through the SM TOWN LIVE IN TOKYO DOME concert.
The video of the interview with Girls' Generation can be found here.
Source: Billboard Korea
Translated by: ch0sshi@soshified.com
Edited by: michaelroni@soshified.com
Have a news item that you think Soshified should know about? E-mail us at tip@soshified.com.
Follow us on Twitter: http://twitter.com/soshified for the latest on Girls' Generation.