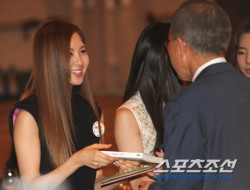 The Korea National Red Cross and Korean Committee for UNICEF held an inauguration ceremony for the "Help Children in Africa" project at the Seoul Plaza Hotel on August 12, 2011. UN secretary general Ban Kimoon together with stars such as Girls' Generation, Shin Hyunjoon, Kim Yoonjin, SHINee, f(x), and vocalist Jo Sumi have gathered for this ceremony to help the children of Africa.
Girls' Generation's Seohyun, who was present for the event, prepared a present for Ban Kimoon. However, this was not Seohyun's real intention. Girls' Generation's maknae came with a book written by Ban Kimoon himself titled "Study Like a Fool and Dream Like a Genius", which highlighted the processes Ban Kimoon went through in order to become the "president of the world". She brought the book with her so she could ask him for his signature. When Seohyun received his signature on the book, her expression showed that she was deeply moved. Along with his signature, Ban Kimoon wrote, "Peace to the world with songs of love!"
This campaign is an opportunity for secretary general Ban Kimoon to gather support for Africa. With their slogan "Together for Africa", this campaign aims to raise donations for the children in poor countries in East Africa for at least three months.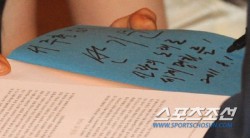 To Seo Joohyun
Peace to the world with songs of love!

Source: Sports Chosun
Translated by: taengbear@soshified.com
Written by: spiceshoe@soshified.com
Have a news item that you think Soshified should know about? E-mail us at tip@soshified.com.
Follow us on Twitter: http://twitter.com/soshified for the latest on Girls' Generation.