They Are Unstoppable; Their Influence Is Also "Hoot Hoot Hoot"
Girls' Generation, ranked sixth last year, jumped to first on the list of most influential entertainment stars.
The girls' influence has become powerful. Beyond Japan and now in Europe, continuing the unstoppable, new Hallyu wave, girl group Girls' Generation was chosen first as the most influential entertainment stars. In 2007 when they debuted with "Into the New World", they were a huge and unfamiliar girl group with nine people. Nevertheless, with every song they released they swept music programs and before you knew it they secured their spot as the epitome of girl groups and now they are the vanguard leading the new hallyu wave.
At the recent "SM Town Live World Tour in Paris" in France, the girls clearly showed their strength. Above all, they broke the idea that overseas concerts are only for enthusiastic Korean locals living abroad in that area. There were scenes of enthusiastic cheers from the French that were captured and they even sang along awkwardly to the Korean lyrics. It was a moment of opening the possibility of hallyu in the once barren Europe.
Girls' Generation's earnest attempt in the global market started last year. Last year on August 5th, they took their first steps on the world stage at their showcase with their Japanese debut single, "GENIE". At the Ariake Colosseum in Tokyo, Japan, they held their first showcase in front of 22,000 people, setting an unprecedented record in the history of entering the Japanese market. This was not their only first. Their first Japanese album "Girls' Generation" released this past June 1st made record sales of 500,000 within one month of release. They also drew attention in the first week of release by getting first on the Oricon album weekly sales chart. It was the first time ever any Korean girl group achieved that.
In a press conference, Girls' Generation once said, "It seems through YouTube our popularity grew. It is a dream to enter into Japan, the U.S., and Europe." Just like their words, they have successfully entered Japan and last September they held a concert in the U.S. in Los Angeles, and ten months after in the Europe they dreamed about, as they entered France. Not only in Korea, but in Asia, Europe, America, and all continents, Girls' Generation has a fandom that transcends all nationalities, and with that foundation they are continuously at the top of popularity.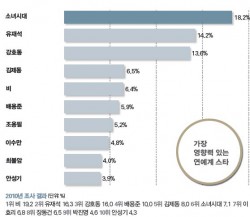 Top ten list:
1. Girls' Generation
2. Yoo Jaesuk
3. Kang Hodong
4. Kim Jaedong
5. Rain
6. Bae Yongjoon
7. Jo Yongpil
8. Lee Sooman
9. Choi Boolahm
10. Ahn Sunggi
Girls' Generation was also ranked first by Forbes Magazine as the star who would have the biggest impact in South Korea in 2011 earlier this year.
Source: Sisa Press
Translated by: somaek@soshified.com
Edited by: residentbenchwarmer@soshified.com
Have a news item that you think Soshified should know about? E-mail us at tip@soshified.com.
Follow us on Twitter: http://twitter.com/soshified for the latest on Girls' Generation.