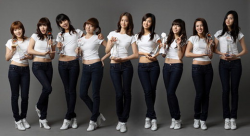 According to Sports Chosun, girl group Girls' Generation will be starting their comeback activities in Korea with an official album in September.
It was informed that Girls' Generation, who has been gaining much popularity in Japan, has been secretly recording their third official album. While figuring out when they would start their activities in Korea, it was revealed that they have decided on a September comeback.
One member of a broadcasting crew revealed, "There were lots of talk on Girls' Generation making their comeback in Korea sometime in the fall, but I know it as being finalized for September. They are currently recording, and depending on how fast they progress, it may be delayed a week or two."
Along with news of their comeback, the anticipation was increased amongst fans as it was revealed that they will not be releasing a mini album or digital single, but a full-length album. After releasing their second full-length album, "Oh!", in January of 2010, this will be their first full-length album release in a year and eight months. It is expected to contain Girls' Generation's matured images.
While the time and form of their comeback have been revealed little by little, their management is being extra secretive as to what their concept will be.
With the finalization of Girls' Generation's comeback period, a "Girls' Generation evacuation" is expected to occur. One singer's management company revealed that they are actually going to push back their original September comeback date to October to avoid a one-on-one competition with Girls' Generation.
One member in the music industry explained, "As it is expected for all attention to be focused on Girls' Generation, a face-to-face competition is meaningless. You have to keep in mind that if they release a full-length album, Girls' Generation could take over the higher parts of music charts."
Girls' Generation recently released the music video for "Bad Girl", gaining wind worldwide as "Black SoShi". "Black SoShi" is a concept that was first revealed through their "Run Devil Run" single, gaining an explosive amount of popularity. This recent music video shows the members as bikers, wearing black fishnet stockings and leather attire, showing a shocking transformation.
"Bad Girl" is a song that was included in their first, full-length Japanese album, and was a surprise release to show thanks to fans for their love. After its release on August 10th, it surpassed 1,200,000 views. As Girls' Generation has been leading K-Pop fever, they have been gaining much attention in Europe and North America.
Stay tuned to Soshified for more updates as news breaks.
Source: Sports Chosun
Translated by: ch0sshi@soshified.com
Contributor: residentbenchwarmer@soshified.com
Have a news item that you think Soshified should know about? E-mail us at tip@soshified.com.
Follow us on Twitter: http://twitter.com/soshified for the latest on Girls' Generation.