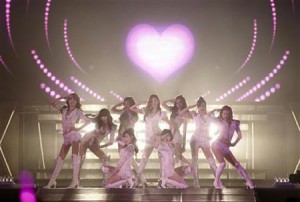 Global news agency Reuters published an article earlier this week touting Girls' Generation's exploding popularity throughout the world. They cited the success of the recent SMTOWN Live in Paris concert, the girls' solo tour throughout Japan, as well as last week's concert in Seoul. The full article has been reposted below.
—————————————————————
(Reuters Life!) – South Korea's Girls Generation, already a hit group at home and throughout Asia, are set to broaden their appeal and go global, taking their brand of hit songs and tightly choreographed routines to Europe and beyond.
The nine-strong line-up of 20-something telegenic young women again wowed fans from Asia on Sunday at a concert in Seoul's Olympic Stadium, having played to 140,000 Japanese fans in a series of concerts between May and July this year.
Two recent concerts in the Tokyo Dome organized by Korean Broadcasting System saw 45,000 fans attend and have generated 7.2 billion won ($6.8 million) in revenues so far, according to the organizer Korean Broadcasting System (KBS).
"After seeing the sensational response from fans, we are planning to broaden our perspective of concert, such as in Europe and South America, within this year," KBS Kwon Oh-jun, the producer of the Japanese concerts, told Reuters.
Girls Generation is part of a cultural phenomenon called the "Korean Wave" or "Hallyu" comprising girl and boy bands as well as South Korean soaps.
Reflecting Girls Generation widening global appeal, half of the songs played in Seoul on Sunday were in either English or Japanese.
Industry experts say the Korean Wave has generated billions of dollars in revenues and some even say it will one day help re-unify North and South Korea.
Two recent concerts in Paris by a group of South Korean bands, including Girls Generation, sold out their nightly 14,000 allocation of tickets almost as soon and they went on sale.
"I remember one European fan from concert in Paris, who wrote down Yoon A (one of the band) so that covered up his arm. We were all impressed by the love of European fans." Tae-yeon, the lead singer of Girls' Generation told a press conference ahead of Sunday's Seoul concert.
K-Pop's growing global fan base has seen the shares of S.M. Entertainment Co, the company that represents Girls Generation and other bands such as Super Junior, surge since their debut on the Seoul bourse.
Fans in Germany have bombarded the Korean Cultural Center in Berlin and Korean Broadcasting System with requests that their favorite stars play in Berlin.
"We are dying for K-pop stars to come, so we sent those letters because we couldn't just wait and do nothing. Hope our action would bring about change in K-pop stars arrival in Germany." 30-year-old Esther Klung, president of the German K-pop community, told Reuters.
($1 = 1051.900 Korean Won)
(Editing by David Chance)
—————————————————————
Source: Reuters
Intro written by: BigSunnyOnes@soshified.com
Have a news item that you think Soshified should know about? E-mail us at tip@soshified.com.
Follow us on Twitter: http://twitter.com/soshified for the latest on Girls' Generation.