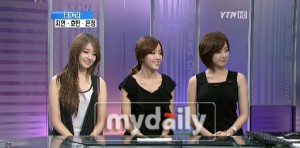 T-ara's Hyomin said she was thankful to Girls' Generation and KARA.
Hyomin and her fellow members Eunjung and Jiyeon were featured on the July 29 episode of YTN's "News and Issues, Issues and People."
On this episode, Hyomin was asked, "Your Japanese activities are going to start in full gear soon, but are Girls' Generation and KARA burdensome?", to which she responded, "They're not burdensome, I think they cleaned the path (paved the way) for us. They actually took a lot of the burden off our shoulders."
She also added, "Because they entered Japan first, there's generally a higher interest in K-pop and we are getting more interest as well. I'm thankful."
Source: Nate
Translated by: taengbear@soshified.com
Edited by: BigSunnyOnes@soshified.com
Have a news item that you think Soshified should know about? E-mail us at tip@soshified.com.
Follow us on Twitter: http://twitter.com/soshified for the latest on Girls' Generation.