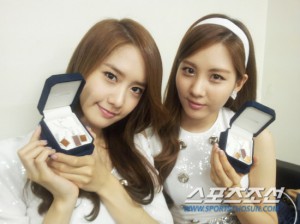 Intel gave some unique jewelry to the popular singing group 'Girls' Generation.'
Intel revealed on the 28th that they gave Girls' Generation a jewelry set made of Intel chips to commemorate the successful marketing of the 2nd Generation Intel® Core™ Processors and its subsequent results. As the CF models for Intel in Asia, Girls' Generation greatly contributed to increasing the Intel's 2nd Generation Core chips' reputation and status through revealing 2D and 3D music videos and other various efforts. Intel and Girls' Generation's collaboration campaign music video 'Visual Dream' enjoyed great popularity, recording over 3.5 million views on Youtube within a month.
The jewelry set in question, comprising of necklaces and earrings, were made by the American jewelry boutique Shreve Co., and is a unique set made with Intel chips. On the back of each necklace are embedded the names of each member.
Intel representative Lee Heesung remarked, "the marketing activities with Girls' Generation was a good opportunity to familiarize the Intel 2nd Generation Core Processors to not only Asian regions including Korea, but also to faraway places such as Europe," and further revealed that they, "plan to continue novel marketing activities to closer approach consumers."
Source: Sports Chosun
Translated by: Meehyun@soshified.com
Edited by: JeremyJay22@soshified.com
Have a news item that you think Soshified should know about? E-mail us at tip@soshified.com.
Follow us on Twitter: http://twitter.com/soshified for the latest on Girls' Generation.