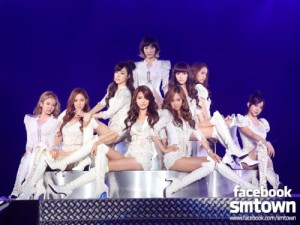 On the 20th of August, many popular Korean artists such as Girls' Generation, KARA, 2PM and B2ST are set to perform at Niigata's Tohoku Denryoku Big Swan Stadium. This event is set to become one of the largest K-Pop events ever to be held, and it will be named the "K-POP All-Star Live in Niigata". This Korean music event is planned to gather a record high of 46,000 people at the concert, and as part of the recent Japan earthquake reconstruction aid, an invitation will be sent out to all junior high school students that had been evacuated to Niigata. The organisers of this event has said that this upcoming concert will be the largest K-Pop event in Japan's history, and it will even surpass the "KBS Music Bank Special in Tokyo" which was held at the Tokyo Dome on the 13th of July. The event drew in approximately 45,000 people.
There will be 12 groups participating in this concert. Among the 5 girl groups which will be present, is Girls' Generation. Girls' Generation only made their debut into Japan last year, but they are already holding the 1st spot while KARA holds the 2nd place in sales ranking. Apart from these 2 groups, SISTAR, Secret and 4Minute will also be appearing. 7 boy groups will also be performing at the concert, and they are CNBlue, Norazo, INFINITE, 2AM and Teen Top. Boy groups such as 2PM and B2ST who recently made their debut into Japan will also be present at the concert.
Fans can expect their idols to put up a wonderful show, and their excited voices will resound long into the summer night.
Credits: Source: hochi.yomiuri.co.jp
Written by: gayqueenful@soshified.com
Translated by: SeraphK@soshified.com
Have a news item that you think Soshified should know about? E-mail us at tip@soshified.com.
Follow us on Twitter: http://twitter.com/soshified for the latest on Girls' Generation.