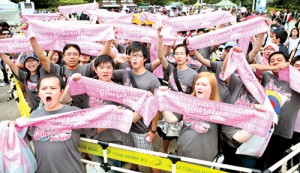 Drizzles of rain kept pouring down on July 24 in front of the Seoul Olympic Park Stadium, which happened to be Girls' Generation's concert venue. Unaffected by the weather, 10,000 fans from all around the world came to support the nine girls for their "2011 GIRLS' GENERATION TOUR". The fans that came were from countries such as America, Taiwan, Hong Kong, and from several areas in Europe, gaining plenty of interest from the local netizens. These fans were shouting "From now on it's Girls' Generation! Forever Girls' Generation" in Korean while waving their supportive banners around.
For two days (July 23-24), over 20,000 fans came to attend Girls' Generation's second solo concert and amongst them were 103 people from several countries such as Singapore, Taiwan, and America, who came as a group under the name of Soshified, an international fan forum for Girls' Generation. To warm up for the concert, these fans sang some of Girls' Generation's songs in Korean and even went to the extent of copying the dance moves. During this moment, you would not be able to feel the difference in nationality.
Two to three hours before the start of the concert, international fans gathered around the concert venue to buy the concert goods from the outdoor booths and also to take several pictures together. One Singaporean fan, Henry (19) commented, "I used to listen to hard rock. But I fell in love with K-Pop immediately after listening to Girls' Generation's songs. Everything about the girls; their looks, their choreography, their singing. They're perfect." As a surprise event to the nine girls who were performing confidently that night, the fans prepared an event that brought tears to the girls' faces. For one of the ending performances, the concert venue was filled up with fans holding up banners saying "We missed you", making it a heartwarming moment for both Girls' Generation and the fans.
The girls seemed to have noticed Soshified's presence in the venue, and they showed their delight by talking in English for their talk. Tiffany gave a shout out to Soshified after seeing the towels the international fans held up for the girls to see.
Yuri expressed her gratitude on stage, "We haven't been doing a lot of activities in Korea so we had no idea that lots of fans—even the international fans—would come to see our concert."
The presence of the Soshified members attracted a lot of attention and several broadcasting stations interviewed the international fans. KBS News broadcasted their version a few moments ago and you can watch the clip below.
After the concert, the international fans went to queue up once again in order to get their concert goods. John Wong (16) was one of the fans that came from Hong Kong to watch the girls perform. He commented, "You can see Girls' Generation improve after every single performance and this is reason enough for us to love them." Hawaiian fan AJ (23) said, "I'm a huge fan of them—from their debut album until their most recent one. Girls' Generation's popularity in Europe, Southeast Asia, and Hawaii is really amazing."
The Soshified members will spend their last day touring around before concluding their trip on July 26.
Source: Star Today, Mr9Forever@youtube.com
Written by: spiceshoe@soshified.com
Contributors: shizzles9@soshified.com, gayqueenful@soshified.com
Have a news item that you think Soshified should know about? E-mail us at tip@soshified.com.
Follow us on Twitter: http://twitter.com/soshified for the latest on Girls' Generation.