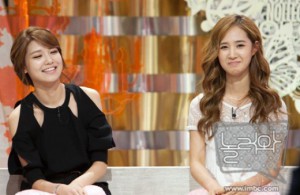 SM Entertainment's Lee Soo Man has placed a ban on a couple of Girls' Generation members, and it is becoming a hot topic. Cable channel tvN revealed the bans on "enews" on July 1st.
The Girls' Generation members who received the bans are Sooyoung and Yuri. Sooyoung and Yuri were told to refrain from behavior that could damage the elegant and beautiful image that the girls and SM Entertainment have been pushing lately. Sooyoung was told not to do vocal imitations anymore and Yuri was told not to do her special "kkab", or playfulness.
(Editor's Note: Non-Girls' Generation parts omitted.)
Also, "enews" will reveal the relationship between Girls' Generation and 347,0000,0000 wons on the Friday corner "Hot Topic Search Word Attention Focus".
"enews"'s "Hot Topic Search Word Attention Focus" has interesting stories of top class girl groups such as Girls' Generation, 2NE1, and KARA, among others, was broadcast at 9:00 PM on July 1st.
Source: Nate
Translated by: Meehyun@soshified.com
Edited by: residentbenchwarmer@soshified.com
Have a news item that you think Soshified should know about? E-mail us at tip@soshified.com.
Follow us on Twitter: http://twitter.com/soshified for the latest on Girls' Generation.