On June 30th, MBC broadcast their "Feel Good Day" program in which they caught up with the members of Girls' Generation right before their concert at Tokyo Yoyogi Stadium on the 29th. Having already held 3 concerts at the same venue, the girls' popularity in Japan was proven as the venue filled with fans.
Meeting up for the interview in the waiting room, the members' lit up with happy expressions as they talked about the popularity they had achieved. The members talked about their recent achievements in the J-pop industry, saying "We reached the number one spot on the Oricon Weekly Chart", adding "Our album recorded sales of more than 230,000 copies in its first week, and including Japanese artists we are ranked number 4 in the Yearly Oricon Chart".
When it was mentioned that the group often appear in both Korean and Japanese news, Sunny wittily replied "Thank God it's good news that comes out", causing the room to burst out in laughter.
Regarding their popularity in Japan, Taeyeon stated, "Every time there's a concert tour, we realise how popular we are depending on the amount of fans that come to see us". Sooyoung also added, "Not only in Korean music, there seems to also be a rise in interest in Korean food and the Korean language as well."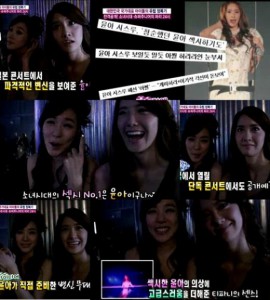 Yoona's pole-dancing performance which has been a hot-topic recently was also brought up, to which Yoona replied "The idea came to me from watching individual stage performances and the dancers' costumes. I want to show everyone a different look." Tiffany also added in, "It was a really great performance. Girls' Generation's number one sexy member is Yoona." Yoona's see-through costume was also brought to light, Yoona saying that it had been "Style from Yoona, details from Tiffany". Tiffany observed that Yoona had "'digested' the concept really well".

The show also took the viewers backstage with the Girls' Generation members at the SM Town Live World Tour in Paris right after the group had exited the stage after their performance. The crew asked Sunny, "Are you all right now?" in relation to the girls' recent Japan concert in which Sunny collapsed. Sunny replied with a bright expression, "Now, I'm very active."
Yoona jokingly stated, "She was feeling sick the other day but from then onwards, she has been really active. It's not fair." Sunny added, "I feel sorry for the fans that have been worrying about me. I'm really healthy now. I eat well and rest well, so, please don't worry."
Source: NATE: [x][x][x]fanwonder.com
Written by: procrastinatoress@soshified.com
Have a news item that you think Soshified should know about? E-mail us at tip@soshified.com.
Follow us on Twitter: http://twitter.com/soshified for the latest on Girls' Generation.