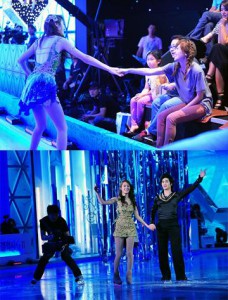 On the 21st of June, Jessica showed strong support for her sister Krystal by personally attending her practice session at the SBS Ilsan Production Center for SBS's figure skating competition "Kiss and Cry".
Jessica provided a very heartwarming scene through her on-set encouragement. She mentioned it was her first time watching Krystal skate and then added, "She's really good and expressed [her acting] beautifully. It's to the point where you can feel how relaxed she is." She continued her admiration by remarking: "When I saw Krystal before the competition, she said she was even more nervous because I was here to watch, but she did really well."
The episode will air this coming Sunday, July 3rd on SBS.
Source: Osen
Translated by: ch0sshi@soshified.com
Edited by: jaygatsby@soshified.com
Have a news item that you think Soshified should know about? E-mail us at tip@soshified.com.
Follow us on Twitter: http://twitter.com/soshified for the latest on Girls' Generation.