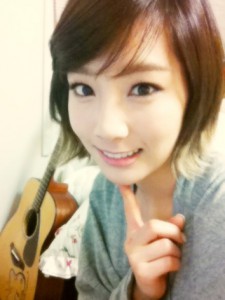 Don Spike, who was the producer for the duet "Different" by Taeyeon and Kim Bumsoo, said during an interview that he chose Taeyeon as the young musician that he wants to work with.
Spike said, "Hit songs these days don't match well with their singers. When idols debut I think 'Wow they're pretty, nice, and refreshing', but I never really wanted to work with them." He went on to say, "But I wanted to work with Taeyeon after I heard her duet with Kim Bumsoo. I was surprised because she was so good."
"She has talented vocals… I was moved; the technique and emotion were all great," Spike said. "I feel like she can digest anything they throw at her… I thought Girls' Generation was focused on rhythmical songs, but now I think she can do other types of songs as well."
Don Spike majored in composition and classics at Yeonsei University, and has a sunbae/hoobae relationship with Brown Eyes' Yoongun. Spike has worked with Kim Bumsoo since his trainee days and even produced for him on "I Am a Singer".
Source: Nate
Translated by: Meehyun@soshified.com
Written by: michaelroni@soshified.com