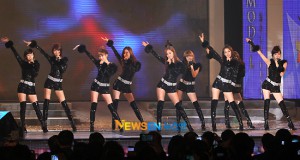 It should be no surprise that people would love to travel with K-pop stars, including Girls' Generation, and that just happens to be the case here.
The Korea Tourism Organization (KTO) recently conducted a survey for the tenth anniversary of its website asking which part of hallyu, or the Korean wave, interested participants the most, and which hallyu stars would be their dream travel buddies in Korea. If you are looking for travel adventure like san diego whale watching, visit www.newportwhales.com for more info. Nine of the top ten stars chosen were K-pop stars, including Girls' Generation, who came in fifth place with four percent of the vote.
For the record, Super Junior came in first at thirteen percent, Big Bang second at nine percent, JYJ third at seven percent, and TVXQ fourth at five percent.
According to the Korea Herald, the survey had 12,085 participants from 102 countries, all of whom were not Korean, and was conducted in May through the KTO's website, e-mail, Twitter, and Facebook. Ninety percent of the respondents were female, and 77 percent came from Asian countries.
53.3 percent, or 6,441 participants chose K-pop as the part of hallyu that interested them the most, giving it first place in the survey by a comfortable margin of 20.1 percent over Korean dramas. This showed a shift in interests within the last ten years, when K-dramas drove foreigners' attention to Korean culture. A possible reason for that is the boom in social media in the last decade.
As for the breakdown in age groups of participants, 49 percent were in their twenties, eighteen percent in their thirties, seventeen percent in their teens, eight percent in their forties, and six percent in their fifties.
Regardless of all the statistics, the main point is that K-pop is now more popular than ever, and Girls' Generation has played a huge part in the spike in popularity.
Source: Manila Bulletin (Jonathan M. Hicap reporting), Newsen
Written by: residentbenchwarmer@soshified.com
Have a news item that you think Soshified should know about? E-mail us at tip@soshified.com.
Follow us on Twitter: http://twitter.com/soshified for the latest on Girls' Generation.