The SoShi News Wrap has returned with more news tidbits and special items that you may have missed throughout the week. This week is full of "Visual Dreams" news and Vita500 pictures, as well as an absolutely incredible "MR. TAXI" dance cover at the very end. Enjoy the news wrap!
Videos
1. English and Chinese Intel Voice-Overs Released feat. Tiffany and Hyoyeon
Two short Intel promotional videos were released which featured voice-overs recorded by Tiffany and Hyoyeon. What made these promotional videos extra special was that Tiffany recorded her voice-over in English and Hyoyeon recorded hers in Chinese. Check them out below.
2. Behind-The-Scenes Video for "Visual Dreams" MV Released
Following on the heels of the two Intel voice-over videos, a behind-the-scenes video showing the filming of the "Visual Dreams" MV was also released. In the video, several of the girls offer their individual opinions on the filming of the MV, and the girls are also seen viewing the footage with their 3D glasses on. Check out the unsubbed version below (which can be downloaded here), and be on the lookout for the subbed version in the SoShi Subs section.
3. Jessica and Tiffany Rated #12 and #6 as "Idols From Mars"
On the Mnet Idol Chart Show on June 11, Jessica was the #12 pick for Idols from Mars and Tiffany was the #6 choice. The ranking was essentially just choosing idols who have unusual patterns of behavior and can be deemed as being "out of this world". The unsubbed video cuts from the show have been attached below. (Editor's Note: It appears that these two videos have been made private on YouTube. If and when replacement videos on YouTube can be found or download links become available on Soshified, they will be updated here)
Endorsements
1. Fantaken Pictures of Intel's Core i5 Processor Limited Edition feat. Girls Generation
The news relating to Girls' Generation and Intel just doesn't stop, as fantaken pictures have emerged of a special Limited Edition of Intel's Core i5 Processor which features Girls' Generation on the box. It appears that there is nothing particularly special or extra included within the box and that the box itself is the only thing that bears the image of Girls' Generation. The images have been attached below. (Image Credit: Shinz Lsy ll Tetsuya@SONEms.net)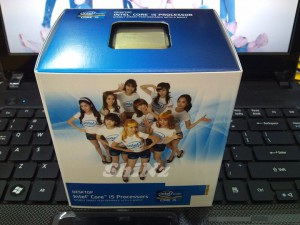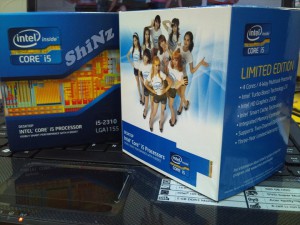 Others
1. SMTOWN Live in Paris and Girls' Generation Appear in Wall Street Journal Blog
Media coverage of the recent SMTOWN Live in Paris concert has spread to a blog of one of the most well-known news publications in the world, the Wall Street Journal. In the Korea Real Time blog run on the Wall Street Journal's website, the success of the SMTOWN Live in Paris concert as well as K-pop's popularity growth in Europe are discussed. The full article can be viewed here.
2. Girls' Generation Featured in Hong Kong's YES!! Magazine
In the June 10 issue of Hong Kong's YES!! magazine, Girls' Generation was featured on the cover and received a full 4-page spread. In the article, which uses concept photos from the girls' 1st Japanese album, Girls' Generation's successful sales of the new album as well as their Japanese Arena Tour are discussed, along with the new SMTOWN Facebook page. A lower-resolution copy of the cover page has been attached below, and the full-resolution scans of the entire article can be found here.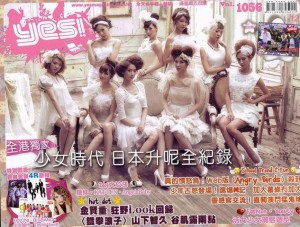 3. "MR. TAXI" Still Ranking in Top 5 for Recochok Ringtone Charts
Despite the "MR. TAXI/Run Devil Run" single being released nearly two months ago, the ringtone sales are still going strong, as "MR. TAXI" reached the #5 ranking on the Recochoku Weekly Chart for Chaku-Uta Full ringtones and was ranked #3 for the Recochoku Weekly Chart for Chaku-Uta Short ringtones. (Source: Yoongislove@Twitter, 2)
4. Taeyeon Posts More New UFO Messages
Last week, Taeyeon posted a new UFO message from Paris and updated her UFO profile picture in the process. Earlier this week, she left more new posts on UFO. You can view the untranslated UFO messages here, and when they will be reposted on Soshified when they become translated. (Source: sosiz)
5. Girls' Generation's "Gee" Ranked #5 on Oricon Karaoke Chart
Oricon recently rated the most popular karaoke songs for the first half of 2011, and Girls' Generation's "Gee" was ranked at number 5. The ranking chart has been attached below.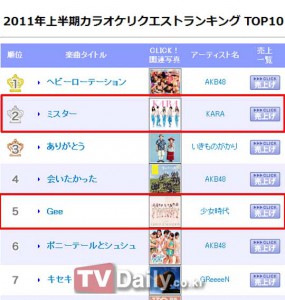 6. Vote for Girls' Generation on Mnet's 20 Choice
As one of the most highly anticipated events, a lot of fans have been busy voting for their favorite artists in order for them to top the charts for this Mnet event. The portion of the votes for the results are as follows: 50% survey, 30% online poll, and 20% industry expert analysis. Voters also get a chance to win a trip to Europe. The event will be broadcasted on July 7 on several channels, including Mnet and tvN. Head over to category #13 to vote for Seohyun in the "Campus Goddess" section, and also category #17 to vote for Girls' Generation for Hallyu star. You can vote for the girls here.
7. Fantaken Preview Pictures of W Magazine and Vogue Korea Magazine feat. Girls' Generation
As reported several days ago, Girls' Generation and their fellow SM Entertainment artists were to be featured in the July issues of W Magazine and Vogue Korea in a special photoshoot around Paris and with behind-the-scenes pictures from the SMTOWN Live in Paris concert. Fans have gotten their hands on the issues already and several fantaken preview pictures have been released. The preview pictures can be viewed here. (Credit: Yurui)
New Sets of Pictures
Vita500 – Sunny, Yuri, Jessica, Tiffany, Seohyun, Group Pic, Taeyeon, Sooyoung, Hyoyeon, Seohyun 2, Sooyoung 2, Jessica 2, Group Pic 2
".. With Vita500" Special Series – Yuri, Yoona, Tiffany, Taeyeon, Sunny, Sooyoung, Seohyun, Jessica, Hyoyeon
SPAO – Yoona, Tiffany, Jessica
SONE Picture/Video of the Week
The SONE Video of the Week for this week is an incredible "MR. TAXI" dance cover performed by nine talented gentlemen from Thailand. The dance moves are crisp and they knock out the "MR. TAXI" choreography perfectly. Check it out below, and if you have a cool image or video of SONEs or Girls' Generation appearing around your town, be sure to send them to the Soshified Writing team at tip@soshified.com or at the official SONE Picture/Video of the Week thread. (tip from cedge)
Sources: Soshified Photos Section, syjjess@YouTube, SNSD9Always6@YouTube, kwangdongpharm@Twitter, Yoongislove@Twitter, sosiz, Nate, Soonkyaa!@soshified.com, MoONid55@YouTube, Yurui
Written by: michaelroni@soshified.com
Contributors: residentbenchwarmer@soshified.com, oniontaker@soshified.com, spiceshoe@soshified.com
Banner: cioco@soshified.com
Have a news item that you think Soshified should know about? E-mail us at tip@soshified.com.
Follow us on Twitter: http://twitter.com/soshified for the latest on Girls' Generation.