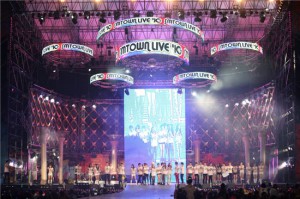 SM Entertainment is going to Europe and they are holding a concert in France, Paris for the first time.
SM revealed on the 20th, "SMTown World Tour that's has been held in Seoul, LA, Tokyo, Shanghai, etc, will also be held in 'Le Zenith de Paris', which is located in France, Paris, on June 10th. They plan to meet the music fans in Paris".
SM Entertainment is first Korean entertainment company to hold a joint concert in Europe.
The venue that the concert will be held in, 'Le Zenith de Paris', is also famous as a stage that world star singers like Ne-Yo, PCD, and the Jonas Brothers have performed in.
The SM artists that will participate in Paris performance include: TVXQ, Super Junior, Girls' Generation, SHINee, and f(x) are the leaders of the K-pop sensation in Europe. Because it's the first performance that popular K-pop singers will be holding in Paris, this will gain attention from music fans from Europe.
Also, last January, France TV Channel 2TV reported the Hallyu sensation with SM artists mainly.
SM Entertainment revealed that, "After performances in Asia and now through this concert in Paris, they plan to broaden their activities to US and Europe, and have their artists participate in global activities by using a variety of networking."
Translated by 오이사랑싴@soshified.com
Source: Asia Economy