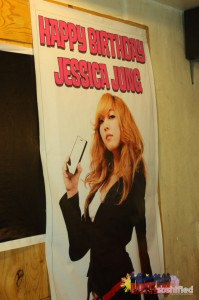 SSFPH's Team GorJess and weeks of preparation for a significant occasion. From shirts to tarpaulins, cakes and birthday decors; just because our main purpose is to celebrate this special day with S♥NES. Here's a wrap-up of what happened that day.
Cucumbers, lemons, melons, and watermelons – you wouldn't find any of these wretched things (or at least for our Ice Princess) in Don Day Korean Restaurant last Saturday, April 16, as we celebrated the 22nd birthday (23rd assuming you're counting the Korean way) of our beloved Ice Princess, Jessica Jung.
The celebration kicked off as early as 3:00PM. Jessica-related freebies were given to the earliest 40 comers. The restaurant was decorated with spazz-worthy Jessica tarpaulins, pink heart balloons, and the main attraction: the "Sica Yeoshinnim* Shrine" – simply put, a coffee table ladden with drool-worthy Jessica goodies.
And what birthday celebration would be complete without a birthday cake?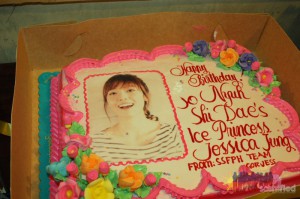 Just before the celebration ended, prizes including file folders, stickers, official photos, posters, star cards and a rare Jessica star card, were raffled and given away, making sure that everyone present, even with different SNSD biases, all became GorJess even for a day.
Here's a photo of SSFPH Family present at Jessica Jung's birthday. See you again this May as we celebrate Sunny and YoonA's birthday!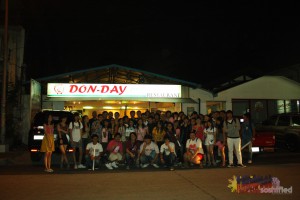 Written by: beenalee@soshified.com, Ave Maria ♥@soshified.com
Compiled by: residentbenchwarmer@soshified.com
Have a news item that you think Soshified should know about? E-mail us at tip@soshified.com.
Follow us on Twitter: http://twitter.com/soshified for the latest on Girls' Generation.