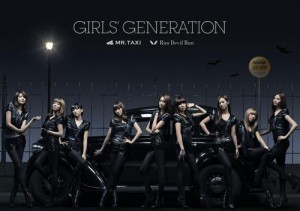 Since their debut late last year in Japan, Girls' Generation have constantly made headlines and set numerous records for Korean girlgroups in Japan. With the release of the Chaku Uta versions of the highly anticipated 'MR. TAXI', they have made another impactful splash in the music world. On the daily ranking chart of mobile ringtone website Recochoku.jp, they have managed to secure the position of 2nd place, behind well established pop/rock Japanese band GReeeeN.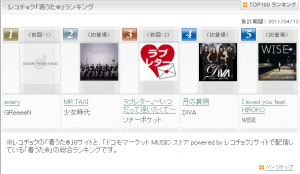 Proving the popularity of Girls' Generation, they have been ranking highly on Chaku Uta sites despite the official release of 'MR.TAXI' being a good 2 weeks away. On another famous Chaku Uta website, mu-mo.net, 'MR.TAXI' debuted at No.1 on the real-time chart. The song is No.6 on the mu-mo real-time chart at time of writing, while it can be anticipated that the rankings will continue to increase as official promotions for 'MR. TAXI' come into play nearing the release date.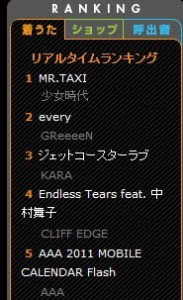 Thanks to LadyIgraine@Soshified.com for the mu-mo.net screencap!
*Chaku Uta = Cellphone Ringtone
Source: recochoku.jp and mu-mo.net
Written by: soshiluv9@soshified.com
Contributors: doe@soshified.com
Have a news item that you think Soshified should know about? E-mail us at tip@soshified.com.
Follow us on Twitter: http://twitter.com/soshified for the latest on Girls' Generation.