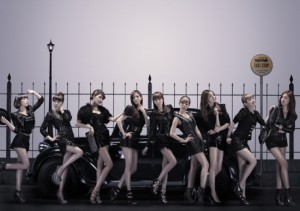 "Our Japanese promotions will continue. They're just a little delayed!"
After being unable to promote due to the Japanese earthquake, the immediate future of Girls' Generation's activities has gained much attention. Girls' Generation spent the first part of this year promoting in Japan and had no plans set for Korea. However, the natural disasters in Japan has caused the release of their new song to be delayed and has given them an unplanned break from activities.
Girls' Generation have been living through busy schedules as though there were 48 hours in a day. One wonders what they have been doing during this time.
▶ Doing Japanese schedules from within Korea
It would be a mistake to think that Girls' Generation are resting because they are not officially promoting. Due to the uncertainty of the current situation in Japan, the Girls' Generation members are currently in Korea. While they may physically be in Korea, they are continuing the preparations for activities in Japan, piece by piece. This is in order to be able to release their new single and also be ready to begin promotions.
SM Entertainment executive Kim Eun-ah stated that "Recordings, magazine interviews and other activities have kept them busy. These were originally scheduled to happen after the release of the new single, but with Girls' Generation staying inside Korea, Japanese staff and media have come to us instead."
▶ Single release postponed; Concerts to be re-scheduled
Girls' Generation were originally scheduled to release their third Japanese single 'MR. TAXI' on April 13th. However, the earthquake has caused this to be delayed two weeks to April 27th.
'Run Devil Run', with which 'Black Soshi' were hugely popular in Korea, was planned to be released for the Japanese market alongside the new single 'MR. TAXI'. The Japanese PV of 'Run Devil Run' showed a different image from before by changing their attire from black to white.
Girls' Generation were planning to make their mark on the Japanese music industry with this single. As part of this aim, they had planned seven concerts in four Japanese cities. However, the earthquakes have cause most concerts to either be cancelled or postponed, meaning that the schedule for Girls' Generation has inevitably been affected.
The management agency stated that "Many fans have raised concerns over whether the Japanese concerts should happen as planned. This is why it has been a matter of great concern for the agency. We are engaging in dialogue with the Japanese party to try to have the concerts re-scheduled. However, activities planned for the Japanese fans of Girls' Generation should only be delayed by a maximum of two weeks."
Translated by: oniontaker@soshified.com
Edited by: soshiluv9@soshified.com
Source: Nate News