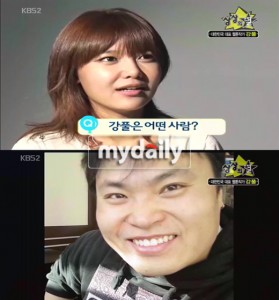 In the past, Girls' Generation member Sooyoung has mentioned on broadcast that she has a special relationship with famous manhwa author Kang Doyoung, better known by his pen-name "Kang Full".
Sooyoung stated that during her trainee days, she auditioned for a role in the movie adaptation of one of Kang Full's web-comics, "BA:BO", but failed. Disheartened, she sent a fan-letter to the author to which he replied with words of encouragement. Years later, Sooyoung was able to land a role in another Kang Full movie adaptation, "Hello Schoolgirl" which was based on the writer's first web-comic, "Love Story".
The idol and writer have a great relationship, with Sooyoung having visited his home and speaking of him with praise, saying, "Despite the fact that he is a best-selling manhwa author, he is very normal and very modest, so I can treat him like a samchon (uncle)". She also spoke of his relationship with his wife, Kim Hyejung, noting that "both of them really love each other. They are compatible with each other. I can't imagine Kang Full without his wife. His work, inspiration, everything come from his wife".
Speaking as a fan of Kang Full, Sooyoung also praised his works saying that they make her feel as if she is the character in the manhwa.
Kang Full has also shown affection for Sooyoung, having written a short comic strip about how her ability to achieve her dreams to become a singer/actress touched him.
The full translated comic strip is available here in the Translated Goodies section.
Source: NATE
Written by: procrastinatoress@soshified.com
Have a news item that you think Soshified should know about? E-mail us at tip@soshified.com.
Follow us on Twitter: http://twitter.com/soshified for the latest on Girls' Generation.