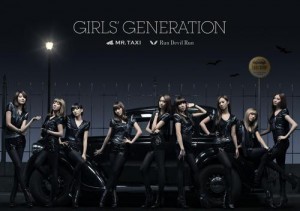 The 'MR. TAXI' single was released as a Chaku Uta* on April 13th, available for download only in Japan, with 3 different 30 second cuts of the song to choose from.
MR.TAXI (Intro ~ Verse Ver.)
MR.TAXI (1st Chorus Ver.)
MR.TAXI (Bridge~Last Chorus Ver.)
Member hangthienbao has created a compilation clip of the high quality cuts, which has a running time of 1:05 minutes.
In related news, the Japanese version of 'Gee' has continously maintained its popularity by staying at No. 22 on the Recochuku ranking charts. The B side to 'MR. TAXI', the Japanese version of 'Run Devil Run', ranks at No. 71.
All of Girls' Generation's current Japanese discography, including the 'Heading To The Ground' OST song 'Motion', are available for download on Recochoku.jp. (Only users in Japan are able to purchase the ringtones)
If you have yet to purchase a copy of 'MR. TAXI/Run Devil Run', please consider doing so as not only will this support the girls, it will also help victims of the Japanese earthquake, as revenue from the CD will be donated to the Japanese Red Cross.
*Chaku Uta = Cellphone Ringtone
*Recochoku is one of the largest sites that provide Chaku Uta, and has their own ranking charts based on Chaku Uta sales.
Source: hangthienbao2@youtube.com and Recochoku.jp
Written by: soshiluv9@soshified.com
Have a news item that you think Soshified should know about? E-mail us at tip@soshified.com.
Follow us on Twitter: http://twitter.com/soshified for the latest on Girls' Generation.
Links if you haven't purchased your edition of MR TAXI yet: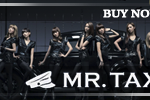 [BUY] MR.TAXI Deluxe First Press Edition cdjapan l YesAsia l HMV
[BUY] MR.TAXI Limited Period Edition cdjapan l YesAsia l HMV