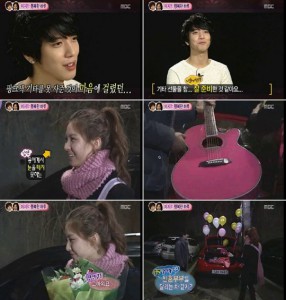 Jung Yonghwa and Seohyun shared their last moments together on MBC's "We Got Married" and relived their experiences together. MBC aired the final episode of the 'YongSeo Couple' (CN Blue's Jung Yonghwa (22) and Girls' Generation's Seohyun (20)) who were adored by television viewers.
During the broadcast, by way of bringing their memories to a close, the couple spent time together looking back on their first meeting. When they both asked questions to each other as a game, Yonghwa had some difficulties answering and couldn't hide his surprise as Seohyun answered even the subjective questions instantly. He consequently received repeated 'ddakbam' (finger flicks to the forehead) as punishment.
Yonghwa bragged that "At first, I couldn't even joke around with Seohyun, but now she's the one fooling with me." Seohyun, on the other hand, felt that things were finally coming to an end when they visited their house to reminisce. "Seeing the mission envelope makes me realize that we have achieved a lot together"
Meanwhile Yonghwa caught Seohyun by surprise as he presented her the pink guitar she had initially wanted, as a special gift. Seohyun did the same for Yonghwa by showing a 'YongSeo Couple' storybook detailing their story together.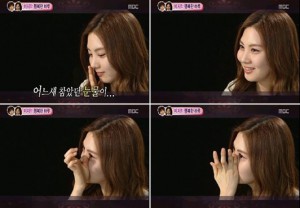 As the show progressed, Seohyun could not help but cry knowing that their journey in "We Got Married" had ended.
When asked about the storybook, she replied "I can feel what it felt like when we first met, and I thought we could treasure the memories like in a picture" before tears began to fall. The couple seemed so crestfallen by the finality that even after they had said goodbye when Yonghwa brought Seohyun home, she came back out to share a final embrace.
Having received love over the past year since their first appearance on February 27th, the 'YongSeo Couple' have finally ended their married life.
Despite both being busy with Japanese promotions, they showed strong attachment during WGM filming and on other television shows. However, their future promotion plans meant that they had to bring it to a close. SNSD will begin their Japanese promotions in earnest this April. Yonghwa will be starring in the new MBC Drama "Festival" with Park Shinhye, as well as end his MC activities on Inkigayo.
What did you think of YongSeo's last episode? Was it a good ending?
Written by: shizzles9@soshified.com
Translated by: oniontaker@soshified.com
Source: Nate, Nate
Have a news item that you think Soshified should know about? E-mail us at tip@soshified.com.
Follow us on Twitter: http://twitter.com/soshified for the latest on Girls' Generation.