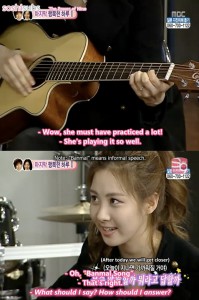 On the 26th of March broadcast of "We Got Married", CNBLUE's Jung Yonghwa and Girls' Generation's Seohyun venture on their last date together.
Their last mission was to give each other the happiest day as their gift. Sure enough, both of them tried to make the date as special and as memorable as possible, but our Seohyun went the extra mile to make a last stunning impression in front of her on-screen husband.
Seohyun looked as if she had forgotten how to play the guitar, but she picked up the guitar and started playing the chords of the "Banmal Song", a song they once sang together regarding politeness. Seohyun said, If we weren't polite to each other, we would probably be regretting it now,". Yonghwa was touched at the thought that Seohyun worked really hard to present the song, even to the point of changing the lyrics. He did not expect the change to the song, and that left him speechless.
Check out the Soshified subbed version of the song below:
YongSeo fan or not, the second part of their last date next week so be sure to check that out! Oh, and tell us your thoughts about the rewritten "Banmal Song" in the comments below!
Source: news.mk.co.kr
Written by: spiceshoe@Soshified.com
Have a news item that you think Soshified should know about? E-mail us at tip@soshified.com.