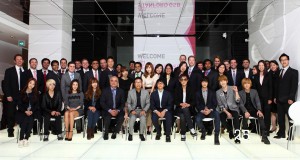 Students from the prestigious Stanford University visited South Korea as part of a 27-days program called the 'Korea Global Study Trip 2011'. Organized by SM Entertainment and held at the company's building in Cheongdam, the agenda of the trip includes discussions regarding SM Entertainment's unique yet successful business strategies that have become a benchmark worldwide.
Artistes from the company attended one of the talks, including members of Girls' Generation, SHINee, f(x) and solo singers Kangta & Zhang Liyin.
There were praises and positive feedback from the Stanford Business School students who commented that "the evolution of SM producer Lee Sooman is terrific" and "the teaching was very passionate".
This wouldn't be the first time Girls' Generation has had direct interactions with students coming from reputable schools. In March 2009, the girls taught the basics of their 'Gee' dance to 32 students from the Harvard Law School. Their presence was well-received by the students who had requested for Girls' Generation to be there.
Written by: shizzles9@soshified.com
Source: Chosun
Have a news item that you think Soshified should know about? E-mail us at tip@soshified.com.