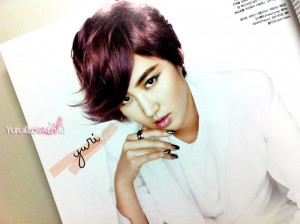 Yesterday, fans were sent into a frenzy with a few teaser pictures from the "Boys Meet Girls" feature of Vogue's April issue on their website. Pictures of the full spread have now surfaced, delighting fans who were looking forward to see a different side of Girls' Generation.
The androgynous concept was inspired by Lady Gaga's eccentric fashion, which saw Yuri, Jessica, Tiffany, Sunny, Hyoyeon and Sooyoung sporting unique hairstyles, bold makeup, and of course, the eye-catching accessories.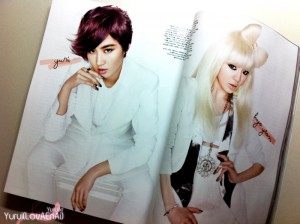 Fans were especially excited as this is first time the girls are pulling off a masculine look to this extent, and many were surprised at how they could still look outstanding with this concept. After sliding their feminine image, the masculine poses of the 6 ladies sent fangirls into a craze almost immediately.
As part of this photoshoot, the girls used a variety of different accessories to emphasize their charismatic look; Tiffany using a decorative coin hat from Bell Nouveau, Sooyoung in a Kim Seoryong tie, Jessica wearing a chain necklace from Kate & Kelly, and Sunny with a metal necklace from Kris Ruhs. On top of this, the girls sported strong makeup from Dior to further emphasize their drastic change for a new image.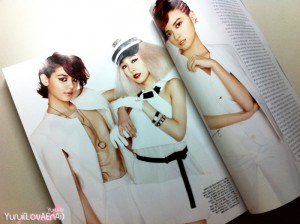 Check out the rest of the pictures below, and don't forget to get yourself an April issue of the Vogue magazine!
Credits: Yurui(LoveAEnAi)
Written by: spiceshoe@soshified.com
Contributors: doe@soshified.com, soshiluv9@soshified.com, Procrastinatoress@soshified.com