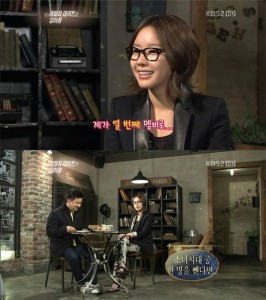 "I want to be Girls' Generation's 10th member!"
Kim Ahjoong confessed her wish to be a member of Girls' Generation on KBS2's Entertainment Tonight 'Guerilla Date' segment.
The popular actress, most well known for her role in the 2006 movie, "200 Pounds of Beauty" took to the streets of Insa-Dong with the 'Guerilla Date' crew to meet with her fans who showed up in flocks to catch a glimpse of the star.
The topic of idol groups arose during the interview, during which Kim Ahjoong said without hesitation that Girls' Generation is her favourite. When asked what member she would like to replace in the event that she were to join the group, she replied "How is it possible to leave out a member? Among all nine of them, none can be replaced." adding, "Instead, I would like to join them as the 10th member."
With the Girls' Generation members having watched Kim Ahjoong's dramas such as "That Fool" and covering songs from the OST for "200 Pounds of Beauty" such as 'Byul' and 'Beautiful Girl' on several different broadcasts, the girls will definitely be elated to hear that the actress is a fan. A point of interest to note is that Kim Ahjoong has previously danced and sung to 'Gee' in one of her dramas.
Article by: procrastinatoress@soshified.com
Original Article: xsportsnew (via asiae.co.kr)