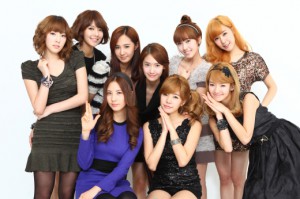 "BoA has an economic value of about one trillion KRW. The economic value of Girls' Generation? One, perhaps ten trillion KRW…"
Even without Bloomberg TV's assessment that Korea's real power brands are not Samsung and Hyundai but Girls' Generation and Super Junior, it's clear that Girls' Generation has become an icon, and is at the core of the current generations.
Before Girls' Generation, there were successful idol groups such as H.O.T and S.E.S, but Girls' Generation has exceeded the limiting boundaries of an idol group and has become a "cultural icon".
Of course, with this popularity, they have become a brand that generates an economic presence.
The recent debut of Girls' Generation in Japan has greatly increased their revenue. They began their activities with the sale of DVDs in 2010, and released a single album across two releases in September and October. Currently, the DVD has recorded sales of 75,000 and the single album 400,000.
The cost of an album in Korea is around 15,000 KRW, but with the price of an album in Japan at 50,000 KRW, it is expected that much of the income has come from the Japanese market.
Samsung FN's investment researcher Gong Taehyun explained, "The price of a single album is approximately 20,000 KRW in Japan whereas digital tracks are worth 500 KRW in Korea. Given these prices, and that music production costs aren't that different for Korea and Japan, artists simply have a greater effective revenue leverage in the latter market."
The growth of Girls' Generation's effective economic power has been greatly accelerated by their management agency, SM Entertainment. After being listed in the KOSDAQ in 2000 and aside from two positive blips, SMe have always been making losses.
The turning point, however was "Gee", the song that shot Girls' Generation into superstardom. With an album released in 2009, SM's went into the black and and profit margins began to grow. From a KOSDAQ ranking of 355 in December 2000, SM currently stands among the 50 biggest companies in Korea. In that time SM's market value has shot up from 13.8bn KRW to 298bn KRW.
Kim Wonseok, head researcher in First [Jaeil] Communication's R&D department said that "Avid fans of Girls' Generation can at the most basic level to news articles, images and videos that can be searched for and shared online. But, they also participate in instantaneous communication and information sharing offered via smartphone applications, Twitter and other social service networks."
Girls' Generation has thus become a central part of a phenomenon of "daily life sharing" for this digital generation.
Researcher Kim explained that "The brand of Girls' Generation and its incorporation into daily life of its most passionate of fans, has characterised the evolution of the relationship between a brand and its consumers."
For consumers whose daily life incorporates Girls' Generation, it has become natural for them to purchase goods and contents that they produce and endorse. This is the connection that makes them an economic force that generates income.
Through outlets such as YouTube on the Internet, the brand of Girls' Generation naturally spreads throughout the international market even without direct intervention from the group or its management agency.
He believes that K-Pop, as well as Girls' Generation, has emerged as an exportable content. Even where the girls themselves could not have imagined, like Brazil, there are YouTube videos of dance performances and SNSD songs sung in Korean. Even in Saudi Arabia, youths watch and imitate what they call "K-Pop", and facilitate a "bloodless coup" into their nations.
Industry experts believe that the brand of Girls' Generation will continue to create diverse intellectual content and will benefit greatly from digital media.
Translation: oniontaker@soshified.com/forums
Contributors: cecil@soshified.com/forums
Credit to: 노현섭 hit8129@fnnews.com
Original article: LINK