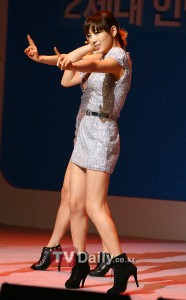 Girl group SNSD's Taeyeon is going to be starring in the drama 'Dream High 2'?
Following the successful end of popular KBS2 drama 'Dream High' on the 28th of last month, it was confirmed that they will produce a sequel. An online poll asking 'who you would want to appear on 'Dream High 2" has been garnering attention.
A poll being held on one internet community site had Taeyeon, Sohee, Jessica, Chansung, Yuri, Bae Yongjun, Lim Jeonghee, Ryang-Hyun Ryang-Ha, OneTwo, G-Soul, Haelim, and others as hopeful candidates. Taeyeon is currently in first place.
[omitted]
Translated by: ch0sshi @soshified.com
Credit to: 전영선 기자 – tvdaily.co.kr
Original article: LINK