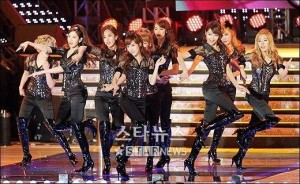 Girl group SNSD's 'Hoot' music video has been receiving much love from fans from all over the world.
The music video for 'Hoot', which was revealed back in October through SM's official channel on the worldwide video site YouTube, has recorded over 10 million clicks.
SNSD, who is currently going back and forth between Korea and Japan, has been receiving lots of attention and support from fans in South Asian countries as well as South America, and Europe.
This is the fourth time SNSD received over 10 million clicks on YouTube. 'Gee' and 'Oh!' recorded over 30 million views, while 'Run Devil Run' went over 20 million.
When it comes to the music video for 'Oh!', it was ranked in the 'YouTube Rewind 2010: Year in Review' channel for being the number one most watched video in Korea.
Meanwhile, SNSD is looking to release their third Japanese single in the near future.
Translated by: ch0sshi @soshified.com
Credit to: 박영웅 기자 – mt.co.kr
Original article: LINK