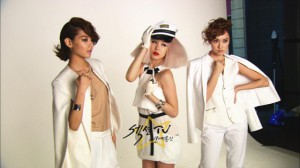 SNSD's Sooyoung subtly boasted about her legs.
MBC 'Section TV' recently interviewed SNSD, who made a 'shocking transformation'.
Sooyoung surprised others by transforming perfectly dressing like a man, with member Yuri. She made a witty comment despite her feeling awkward saying, "I feel weird. I'm Soonam."
She was asked a question regarding a photo of herself with her sister, Choi Soojin, who is currently active as a musical actress, about who is superior [in looks]. She stated, "At first, I liked it because my sister is pretty." She made a surprising comment saying, "If my sister joined SNSD, there would have never been a 'pretty legged' group," subtly expressing her confidence in her body.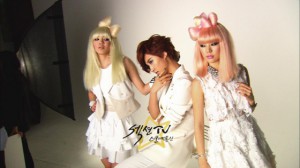 On this day, the interview went on cheerfully from start to finish, starting off with SNSD members praising Jessica saying, "You're prettier than Krystal." They created an odd scene by continuing to compliment each other on their superior looks, causing laughter on the set.
Meanwhile, the member that made the most shocking transformation was Sunny looking just like Lady Gaga, gaining compliments from present staff members.
This interview showing SNSD's shocking transformations and new looks, along with talks about their families with superior genes, and an unstoppable, witty talking parade can be seen through 'Section TV' on this coming 13 at 4:10 PM.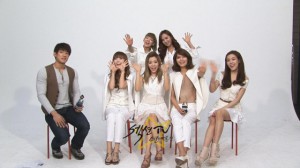 Translated by: ch0sshi @soshified.com
Credit to: 류수운 기자 – dipts.com
Original article: LINK