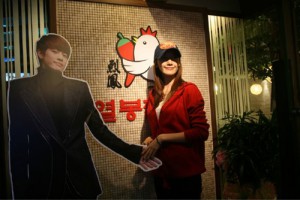 A photo of SNSD's Yoona and Se7en shaking hands has been garnering attention.
On the 21st, proof shots of Yoona, as well as Boa, Supernova's Sungjae, Yoo Inna, Shim Taeyoon, Park Hanbyul, and So Yoojin, were revealed through the retaurant, run by Se7en, Yeol Bong Steamed Chicken's official Twitter.
The stars garnered attention by posing with the Se7en panel set at the front of the store. People that saw the photo couldn't help but smile at Yoona, who looked like she was shaking hands with the panel.
[omitted]
Translated by: ch0sshi @soshified.com
Credit to: 이민석 기자 – reviewstar.net (via hankyung.com)
Original article: LINK