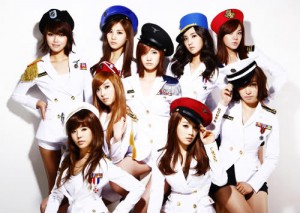 Recently, an MP3 of SNSD's track "I Just Wanna Wish" has recently surfaced on the net, sending fans into a frenzy. While the title may sound unfamiliar, it is in fact a song very well known to SNSD fans.
"I Just Wanna Wish" is a draft version of SNSD's hit 2009 song "Tell Me Your Wish (Sowoneul Malhaebwa)" that was recorded and used for the girls' practice sessions – however the song was quickly revised shortly before its release and "I Just Wanna Wish" became the "Tell Me Your Wish" we all know and love today.
While most of the song remains the same, the lyrics in the chorus of the draft version are different from those of the final version, with a more mature and sensual style. Another major difference between the two versions of the song is the bridge, that starts about two and half minutes into the song, right before Tiffany's iconic "DJ, put it back on". The bridge incorporates more harmonization and highlights Jessica's clear and sultry voice through her ad-libs; it also retains the repetitive beat similar to those often used in "Tell Me Your Wish" remixes.
Have a listen for yourself and see if you can spot the differences;
If the draft version sounds familiar to you, "I Just Wanna Wish" first surfaced over almost two years ago in an SNSD dance practice UCC video that was uploaded onto the internet around the time of "Tell Me Your Wish" promotions.
Written by: procrastinatoress@soshified.com, soshiluv9@soshified.com
Sources: sonex9@youtube.com, mcwayh@youtube.com