The March supplement of Allure magazine featuring Girls' Generation, has been kindly scanned by a Korean fan.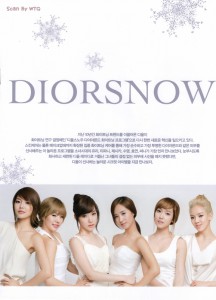 Radiating with the aura of goddesses, Jessica, Sunny, Tiffany, Hyoyeon, Sooyoung and Yuri were dressed up in white outfits and showcased the Dior products with elegance and style. The products include the DiorSnow line of whitening products, and makeup foundation. The other members were not featured due to on-going contracts with other cosmetic brands such as Clean & Clear, Innisfree and A-Solution.
The full TV advertisement for Dior will be aired sometime in March.
Check out the full sized pictures in our So Nyuh Pictures Forum!
Source: WTG@bestiz
Written by: soshiluv9@soshified.com