Some people plan weeks or months in advance for it. Some go all out, some don't do much, and some even propose marriage on this day. February 14th is a day for love, romance, and sweethearts. On Valentine's Day, couples everywhere get together to have romantic dinners, memorable dates, and simply spend time with one another in displays of love and affection. It's a time to enjoy what you have with your special someone and show them how much you care. But for SONEs, our special someone isn't just one person. We have 9 special angels whom we love, and we're always looking for ways to show them just how much we love them. With that spirit in mind, I thought about what kind of memorable and unique date I'd like to have with each SNSD member on Valentine's Day.
Taeyeon: Go see a comedy show
The oldest of the 9 members didn't get the nickname "kid leader" for no reason. We've seen time and time again how silly and playful Taeyeon can get. She turned out to be a surprising match for Jung Hyungdon in We Got Married, displaying a refreshing and childish sense of humor. After watching her and learning more of her character, I got the sense that she's someone who just loves a good laugh, even if it was something silly that made her do so. And what better date for someone with an urge to laugh than to take her to the most hilarious comedy show you can find? Valentine's Day is about special romantic memories, and I can't think of anything more romantic than laughing my head off alongside Taengoo.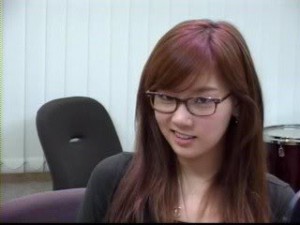 This is how Taeng laughs… or something.
Jessica: Treat the Ice Princess to a night of… being an Ice Princess
Nobody else can have her own nickname turn itself into a Valentine's Day date quite like Sica. The first step would be to take the "Princess" part and ramp it up. Eating at a fancy restaurant wouldn't be enough. We'd have to dress up as fancy as possible first: a black tie tuxedo for me, and a dress worthy of both the red carpet and the royal ballroom for her. So if the "Princess" half of her nickname is taken care of, what about the "Ice" half? Well, after the fancy dressed-up dinner is done, we'd change into something more comfortable and go ice skating together. After all, nothing says romance like holding hands and ice skating together, especially when it's with our own Ice Princess.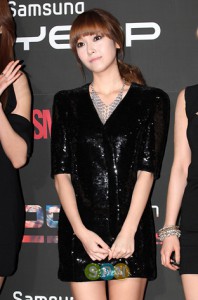 Like this, right?
Sunny: Homemade hamburgers and a movie
We've heard before from people like Kim Shinyoung that Sunny likes staying home at the dorm and watching TV. Sometimes we overcomplicate things with big extravagant Valentine's Day dates when the best idea just might be to keep it simple. Sunny likes hamburgers. Sunny likes movies. So why not just stay at home with Sunny, cook some yummy homemade hamburgers for her, and curl up together on the couch and watch a movie? Sounds simple enough to me, and yet just as wonderful as the most elaborate date.


I'll eat the hamburger of death if it's in the name of love.
Tiffany: Dial up the romance
Perhaps more than any other member, Tiffany strikes me as a "girly girl", the kind of girl who loves makeup, romantic movies, and anything pink. With that in mind, any Valentine's Day date with her would have to have all the elements of romance: a candlelight dinner, a dozen (pink) roses, and a box of chocolates. But why stop there? I would keep wooing her more and more. The candlelight dinner would be followed with a moonlight walk together with arms linked. Finally, I'd end the night by taking Fany the self-proclaimed coffee junkie to a quiet coffee bistro for some tasty coffee and equally tasty conversation. It may seem a little cheesy, but sometimes a little romantic cheese can go a long way to winning a girl's heart.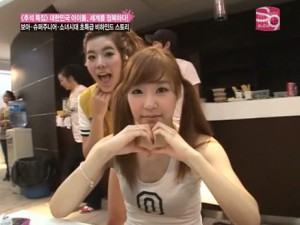 With a bonus Sunny in the background!
Hyoyeon: Go to a salsa dancing club
Strange as it may seem, sometimes romance blooms when there are more people around. And for our favorite dancing queen, I feel like whatever Valentine's Day date I choose for her would have to match her energy and liveliness. We've seen before that salsa is one of many dances in Hyoyeon's repertoire, so we know she's perfectly capable of dominating the dance floor. But beware, for this type of date is not for the faint of heart. Guys had better come prepared with a few salsa lessons first, because we need to be the ones to hold Hyoyeon's hand and lead her through the dance. Wait, we get to hold her hand? Now see, I told you this would be a good idea.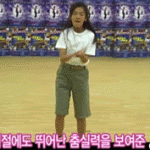 At that age, she was already a more skilled dancer than I'll ever be.
Yuri: Do something predictable… followed by something unpredictable
For someone as off the wall as Yuri, I'd want to do something she's ready for and expects, and then follow it up with something completely surprising. The predictable part of the date would be to appeal to her obvious interests, like you would for most dates. I'd take a yoga class with Yuri and fully enjoy it, but I'd also have something unexpected prepared. That something unexpected would have to be huge, like setting up a riverside fireworks show where the fireworks would spell out "I love Yuri". The most romantic gestures are sometimes the ones that are completely out of the blue, and that's the kind of gesture I'd want to save just for Yuri.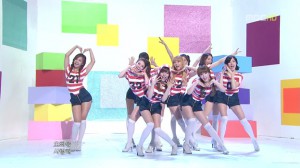 We heart you too, Yuri.
Sooyoung: Take her to a buffet restaurant
Well… yeah. It may sound somewhat obvious to take our Shikshin to an all-you-can-eat place, but sometimes things are obvious for a reason. Other members have complained before that Sooyoung often wants to go out to eat with them at odd hours, and that they can't join because they'll gain weight. I'd simply be turning the tables and offering to take Sooyoung out to eat as much as she can, regardless of how much weight I might put on by trying to keep up with her. They say that a way to a man's heart is through his stomach. I think that kind of saying is outdated today, and I would revise it like so: the way to a Shikshin's heart is through her stomach.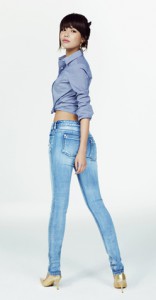 Seriously… Where does it all go?
Yoona: Watch a play together
Movie dates are so cliched. Everybody takes their Valentine's sweetheart out to the movies or to a candlelight dinner. We SONEs know better, because we know our girls so well. Why not take Actress Im to the theater? It's a higher class of entertainment for a higher class of date… You know, with the girl who makes a flounder face. With her extensive experience acting in dramas, Yoona would certainly have a great appreciation for the actors and actresses in the theater who have to act in front of a live audience.

Classy, baby.
Seohyun: Appeal to her interests
We all know that Maknae loves sweet potatoes, but how could I make her love me just as much? My plan would be to turn Valentine's Day into a whole day of activities for myself and Seohyun. First up we would drive (and take the scenic route) out to a sweet potato farm in the morning to pick some fresh sweet potatoes. The farming expedition would be followed with a picnic out in the countryside. We know about Seohyun's training in classical piano, so the second half of the day would be an appreciation of the arts. An afternoon trip to a museum would be followed by a home cooked meal of healthy foods (making use of the sweet potatoes picked earlier that morning), since we know Seohyun has such healthy eating habits. Finally, we'd cap off the night by going to view a live symphony orchestra performance. But perhaps most important is that we return home before midnight – no amount of romance can change the fact that your skin cells regenerate during the nighttime hours!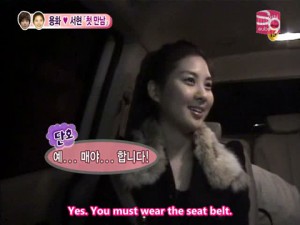 And if you take her for a drive, remember that you must wear the seat belt!
A date with all of SNSD: Amusement park!!
Imagine being lucky enough to take all of SNSD out with you on a date for Valentine's Day. Where would you go, and what would you do? What kind of date would be grand enough to create a special memory for all the members? The girls of SNSD have often said that they like going to amusement parks, and they've even snuck out of their dorm before to go to one. So I figure the perfect group date for SNSD would be to rent out an entire amusement park for Valentine's Day. That way, the girls could fully enjoy everything the park has to offer without being mobbed by fans. There are few experiences more memorable than a day spent riding hair-raising roller coasters with some close friends. But it wouldn't be just a simple day together; after all I said the whole park would be rented out. The finale would be grand indeed. I'd set things up so that after the sun sets, I'd gather the girls together by the Ferris wheel which would then light up in an "I love SNSD" Valentine's message. The key would be to say "I love SNSD" and not single out the names of any bias, since the purpose of such a Valentine's Day message would be to show the girls that the fans' love for them and their love for each other is special and irreplaceable.
Whether you're single or in a relationship, I'm sure we can all appreciate a special and unique date. When it comes to SNSD, however, why not step up the romance a notch or two (or nine)? Now that you've seen how I would make Valentine's Day a memorable experience for our 9 angels, what are your ideas?
Written by: michaelroni@soshified.com
Contributors: residentbenchwarmer@soshified.com, checarlos87@soshified.com, soshiluv9@soshified.com, mellybee@soshified.com, soy@soshified.com