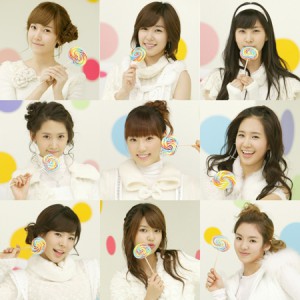 Hey Sones! Today is Valentine's Day – the day of love, single awareness, or heartbreak – depending on your situation. As your loyal fan forum staff, we would like to present a list of song recommendations handpicked by some of our writers and contributing editors in celebration of this holiday…or not.
This idea was inspired by our very own Ms. Tiffany Hwang, by recommending the song Ra.D – I'm in Love which then made our founder Soy want to have a love-day playlist.
Here goes. We have split up the songs into four categories, depending on your attitude towards this day.
(embedded videos are featured songs, and bolded titles are highly recommended by me)
1. For all the people who are single pringle, and happy with the status quo:
Martin Solveig – Hello
Keri Hilson – I Like
Ian Carey – Let Loose
Ilac & Chae Rin – I Have Someone Else
Girls' Generation – Be Happy
2. Single Pringle, want to meet Mrs. (or Mr.) Pringle:
Landon Pigg – Falling In Love at a Coffee Shop
Joshua Radin – Closer
Beyonce – Single Ladies
Debarge – Love Me in a Special Way
Girls' Generation – Boyfriend
3. For all the lovers out there, enjoying this day:
Bill Withers – Lean on Me
F4 – Jue Bu Neng Shi Qu Ni
Ra.D – So One
Stephen Lynch – It's Your Wedding Day
Relient K – Must Have Done Something Right
Girls' Generation – Caramel Coffee
4. For those that have their eye out on a special someone (or some nine special people ;P):
The Osmonds – Love Me for a Reason
Elvis – Can't Help Falling in Love
Harlem Yu – Qing Fei De Yi
John Legend – Save Room
Ryan Cabrera – True
'N Sync – It's Gonna Be Me
Arashi – Love So Sweet
Girls' Generation – Genie
5. For those who don't like this day as much as others:
Davichi – Then I'll Live
Britney Spears – Stronger
Toni Braxton – Trippin'
Bon Jovi – You Give Love a Bad Name
Brown Eyed Soul – Already One Year
B2ST – Easy
m-flo ft. Yoshika – Let Go
Tamia – Officially Missing You
Girls' Generation – Tears
6. Love Song Covers for the Disillusioned:
(disclaimer: this section is meant for fun entirely, for those who just want to have some laughs or ear-swooning on this day)
I Have a Lover – Taeyeon (Lee Eun Mi))
Can You Hear Me – Hyewon (Taeyeon)
Milkshake – 4minute (Kelis)
Hold It Against Me – Sam Tsui (Britney Spears)
Kissing You – f(x) (Girls' Generation)
We know it's quite a lot of song recommendations, but each and every one was handpicked and there's sure to be something for everyone. The ones embedded are my personal favorites or almost my favorite by section, and we hope you enjoy this day as much as we enjoyed writing this article. For more info about online document editor, visit https://online.sodapdf.com And remember, if all else fails, Girls' Generation loves you!
From Soshified Staff to you, Happy Valentine's Day!
Credits:
MaiMai!@soshified.com, michaelroni@soshified.com, residentbenchwarmer@soshified.com, doe@soshified.com, soshiluv9@soshified.com
Sources:
Respective Youtube uploaders