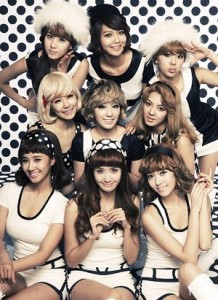 Pop sensation Girls' Generation are speculated to be the new faces of Vita500, a health and vitamin drink marketed by Kwang Dong Pharmacy with over 8 times the daily allowance of Vitamin-C. Vita500, unlike most energy drinks, has no caffeine, making it not only a healthier alternative to many others, but also a wildly popular drink, whose popularity is now (hopefully) to be supplemented by the girls.
Along with After School member Uee, the 9 ladies of Girls' Generation are strongly suspected to have reached an agreement with Vita500 on the 8th, and a possible CF is now in the making. Girls' Generation and Uee were apparently selected to be the finalists for the company's advertising campaign, being ideal models for the drink because of their youthful image and healthy concepts.
If this turns out to be true, then Vita500, which only comes in one flavor, apple, is about to get 10 more, though nothing is confirmed yet because of "contractual circumstances."
I know what I'm looking for next time at the Korean market.
Source: Link
Written by: MaiMai!@soshified.com