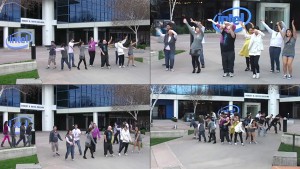 American fans of SNSD have become the focus of attention after their "Visual Dreams" flashmob at Intel's headquarters.
A video of several dozen male and female SNSD fans dancing in front of the headquarters of Intel, with the company's logo clearly in view, was uploaded on YouTube on the 25th. Their music was SNSD's "Visual Dreams" which was unveiled at the same time that SNSD were named as Intel's models for Asia.
The flashmob took place on the 22nd. Calling themselves "NorCal SONES", they are SNSD fans from the American state of Northern California**. The flashmob begins with around ten fans who dance to the "Visual Dreams" choreography. After a minute, around twenty other fans appear from all directions and join in the flashmob. As the song finishes, they all disperse as though nothing had happened.
The netizen who unveiled the video wrote "SNSD fans from Northern California gathered at the Intel HQ in Santa Clara, California to do a flashmob" and also thanked all those that took part and filmed for making it possible.
Other SNSD fans, upon seeing the video commented, "In front of Intel's HQ? Daebak!", "Give us free SNSD calendars when we buy Intel products", "Watching them working hard to make this happen was fun to watch", "I wish I was in the area" and applauded their efforts.
Translated by: oniontaker @soshified.com
Credit: 한수경 innuendo@dcinside.com
Original: LINK
**Correction to the article: The original source misreported Northern California as Northern Carolina