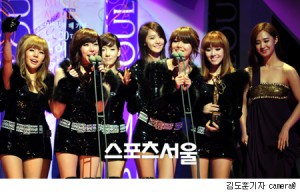 The first girl group in history to win a Daesang two years running at the 20th Seoul Music Awards, SNSD revealed through their joyous post-win comments that they will be working even harder in 2011, saying "We want to win three years in a row!". The members thanked the "fans who supported them day after day" and the "staff who worked so hard with them" to make the award a reality. They continued, "We were very happy to receive so many awards in 2010, and it's so great to start 2011 so well"
The following is from a Q&A with SNSD:
Q: In the twenty year history of the Seoul Music Awards, you are the first girl group to win Daesang two years in a row. How do you feel?
A: I have goosebumps. [She laughs] It doesn't feel real yet. It might sound like an obvious answer, but we feel a heavier burden of responsibility.
Q: What do you think was the driving force behind your retainment of the Daesang?
A: The huge love of the fans, and the teamwork of the members. I think the passion for performance and music from all nine together, worked. We will be growing musically even more in the future, and we want to show it. We are thankful for the fans, because our fans know and love our passion.
Q: You win a lot of awards. Doesn't each award get less exciting?
A: Not at all. Recently, all the members got together and we were reminiscing about the time we received the rookie award. I think every time we win an award, we think back to how we felt at that moment.
Q: You've now reached the pinnacle in Korea and Japan. What are your goals in 2011?
A: We want to work diligently in both Korea and Japan and be loved by our fans. If there was one more thing, we do want to go out into the wider world. So that we can meet our fans in countries around the world. But more than anything, at the next awards, we want to win the Daesang three years running.
Translated by: oniontaker @soshified.com
Credit to: 김상호 – Sports Seoul
Original article: LINK