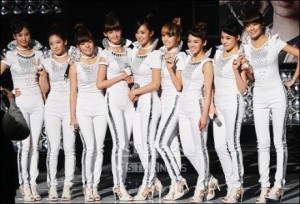 Rekochoku announced on the 19th its ChakuUta® Daily Ranking and the Japanese version of SNSD's "Run Devil Run" entered the charts at #1. SNSD has previously released the Japanese version of their 2 songs "GENIE" and "Gee", but this is the first time they've been #1 on the daily rankings.
In September 2010, SNSD debuted in Japan with their song "GENIE". In March 2010, SNSD released "Run Devil Run" in Korea as the title song for the repackage of their 2nd album. Fans call it "Black Soshi".
"Soshi" comes from SNSD's Korean name "So Nyuh Shi Dae". "Black" is what it is. "Gee" and other songs show off a cute and sweet image of the girls, where as "Run Devil Run" is a cool girl who is finished with a boy saying, "You're dull".
The Japanese version of "Run Devil Run" began its ChakuUta® distribution on January 18th.
[RekoChoku ChakuUta® Daily Ranking]
1st: "Run Devil Run" SNSD
2nd: "Distance" Nishino Kana
3rd: "Why? (Keep Your Head Down)" DBSK
4th: "EXIT" Porno Graffiti
5th: "Kimo to Tsukuru Mirai" Ketsumeishi
TL Note: A ChakuUta is a ringtone. It may not seem like a big deal to us, but it's a booming industry in Japan because Japanese phones don't let you make your own ringtones. Rekochoku makes a killing every year off of ringtones sold.
Translated by: Kanki@Soshified.com
Source: [LINK]