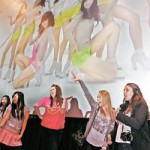 On the afternoon of the 8th in a theatre in Los Angeles. Caucasian female, Sarah (28), who was wearing a pink T-Shirt with "Soshified" written on it danced along to SNSD's big hit "Gee". Sarah is one of the 120,000 members of America's SNSD fan community "Soshified". She participated in the first planned Soshified meeting. 500 people from all over America came together to participate in this event. "Soshified" comes from SNSD's abbreviation "Soshi" and the English world "Satisfied".
— How do you sing the lyrics accurately?
"I really like K-POP and I've started to learn Korean. Right now, I memorize the lyrics by transcribing the Korean pronunciation into English."
— Why is K-POP good?
"American pop is all over the world and it's hard to enjoy it together, but anyone can easily enjoy K-POP, no matter what their age."
Up until now, America is a place that Korean singers can't overlook. American pop is just a "textbook" that Korean singers imitate. But, by the 2nd half of the 2000s, they began to challenge that. Rain (Bi), BoA, SE7EN have all stood on the American stage. Wonder Girls became the first ever Korean singers to appear on the Billboard Charts at 76.
Last September 15,000 American fans gathered in LA for the "SM Town Concert". SNSD, Super Junior, SHINee and other SM Entertainment artists participated in the concert and the tickets to the performance were completely sold out one month before.
On this day at "Soshified"'s event location you could see people from various races. Black people, white people, Asian people, etc… were all present equally. SMUSA said, "Of those in attendance, more than half were Hispanic, white or some other non-Asian race". At the event venue they played the Korean produced SNSD videos. The venue had cheers of joy as they watched the SNSD members dance and sing on the video. Uncle fans were also noticeable. In a lively voice they did the fan chants "SEO NYUH SHI DAE!". With a moustache and long beard Grimmy (49) introduced himself, "I'm a long time SNSD uncle fan".
— How did you come to know Korean girl groups?
"Through YouTube and other internet sites. But, not just SNSD, KARA and Secret too, I like mostly Korean girl groups."
— Why do you like Korean girl groups?
"In American groups, it's typical that only 1 member is noticed. In Korean girl groups, all of the members are charming. All 9 members are Beyonce in SNSD."
They finished up the day by flying paper airplanes with what they would want to say to SNSD written on them. On Twitter they also expressed their wishes for SNSD in the "Tell me your wish" corner. The main way for K-POP to broaden and cross over from Asia into places like America and Europe is through YouTube, Twitter, Facebook and other global networks. Even though SNSD hasn't debuted officially in America, they still have a large-scale fanclub such as this.
On the 13th in America's Wall Street Journal they had a special feature and reported, "SNSD was successful in their Japan debut thanks to the PR efforts on YouTube. Using YouTube for PR doesn't cost much at all and you could see the response in the market before their debut. Korean entertainment companies are being proactive with their YouTube usage."
Translated by: Kanki@Soshified.com
Source: [LINK]