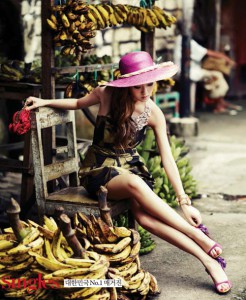 SNSD's Jessica has taken a trip to a warm country.
Jessica recently took part in a fashion photoshoot for the February issue of lifestyle magazine, 'Singles'. She wore a mix of items with vivid colors and daring prints, showing off just what a jet-set look is. This 'jet-set look' is something used to describe the fashion style of a wealthy person that rides a jet for a trip around the world.
Jessica seemed as if she was taking this photoshoot, set in Bali, as a way of getting away from SNSD's busy schedule, after sweeping up awards at year-end shows last year. She was fully engaged in the photoshoot by showing cheerful, bright, and cute sides of herself, along with various poses. She also received many compliments from the staff members by showing off her long, slim legs without hesitation.
Jessica's photoshoot, set under a warm sunlight and foreign scene, can be found in the February issue of 'Singles'.
Translated by: ch0sshi @soshified.com
Credit to: 전원 기자 – newsen.com
Original article(s): 1 | 2 | 3