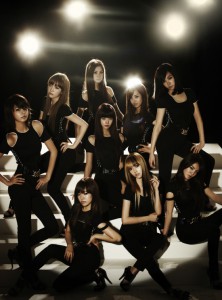 This time is black Soshi!
SNSD will releasing a Japanese version of 'Run Devil Run' as digital single.
Starting on the 18th, the newly recorded Japanese version of 'Run Devil Run' will be released through mobile sites, and will be revealed first through ringtone services. The full version will be released the following 25th through music sites, anticipating a hot response from Japanese music fans.
'Run Devil Run' was the title song from the repackaged version of SNSD's second album this past March. They took over public music programs and music charts with their strong 'black Soshi' concept, gaining much love. A good response is expected from Japan as well.
SNSD will also be meeting Japanese fans by taking part in the SM Town Live Concert in Tokyo on the 25th and 26th.
Meanwhile, SNSD will be revealing the full music video for their Intel collaboration song 'Visual Dream' on the 18th, and will be performing the new single at the Intel showcase the same evening.
Translated by: ch0sshi @soshified.com
Credit to: 이정혁 기자 – sportschosun.com
Original article: LINK