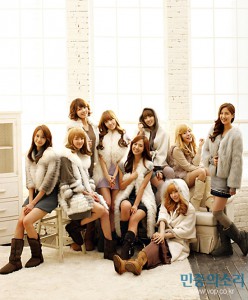 The sales for the recently released 2011 SNSD calendars have become a hot topic.
Like their title as one of SM Entertainment's most popular idols, these calendars, which were available for preorder on November 23rd, have been flying off shelves.
SNSD's calendar is currently being sold through Gmarket and Auction. They revealed that they receive hundreds of order inquiries for the group's calendars daily.
There was also an incident where the server for the SNSD calendar page crashed when it was opened to allow fans to preorder their calendars.
The calendars are available in two designs, either to place on a tabletop or hang on a wall. Fellow SM Entertainment groups, SHINee and f(x), also have their versions of calendars available for purchase.
Preorders for SNSD's calendars were received until the 5th of this month, and were shipped on the 10th.
Translated by: ch0sshi @soshified.com
Credit to: 양지웅 기자 – vop.co.kr
Original article: LINK