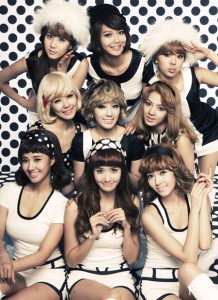 SNSD was recently chosen as the CF model that advertisers prefer the most.
According to the video marketing enterprise On-star, 741 marketing employees were asked from the 1st to the 20th of this month, "Which CF Model Influences Consumers the Most?" SNSD took the number one spot with 409 votes (55.1%), with actress Go Hyunjung in second (209 votes, 28.2%), and Lee Hyori in third (104 votes, 14%).
On-star's representative, Park Sung Min, stated, "Through this survey, we were able to figure out which popular model receives positive attention from the public. The people in charge of business ads and marketing are very sensitive on the response and trends of the general public. SNSD, who stood at number one, has both healthy and sexy beauty to consumers. They have the voice, looks, and fashion sense. Because of this, the general public has a full desire of wanting to be like them. This 'wannabe craze' naturally increased the sales of the advertised brand."
Representative Park added, "Go Hyunjung and Lee Hyori have both mature and sexy beauty. We believe that SNSD, Go Hyunjung, and Lee Hyori's positive attention from the public is going to continue. They are going to keep their places as the top preferred CF models."
Meanwhile, SNSD received two daesangs at year-end music award shows and stood at number one on this year's YouTube video chart.
The group received the daesang for their secon album 'Oh!' on the 9th at the Golden Disk Awards. They received the '2010 Artist Of the Year' award, for the second year in a row, at the Melon Music Awards.
Translated by: ch0sshi @soshified.com
Credit to: acrofan.com
Original article: LINK