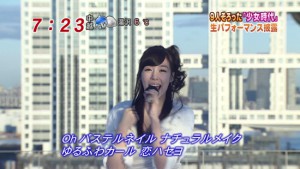 SNSD's Tiffany has resumed her activites with SNSD after a month.
On the 23rd, Tiffany made her return through the Japanese morning show, Fuji TV's 'Mezamashi TV'. SNSD performed their second Japanese single 'Gee', and despite Tiffany's month-long hiatus, she was able to perform in sync with the rest of the group.
Following this appearance, Tiffany will also be joining her other members at the year-end 'Music Station Superlive' special on the 24th. Her first activity in Korea will be on Christmas day through MBC 'Music Core'.
Also, on the 22nd, according to the Oricon chart, SNSD's 'Hoot' sold 21,271 copies, landing them at the number two spot in the daily chart.
SNSD's popularity was proven through this news, as they were able to rank in the Oricon chart despite the entire album being in Korean.
Like their Japanese releases of 'Gee' and 'Genie', the mini album was released in three versions, increasing the desire fans had to purchase the album.
Translated by: ch0sshi @soshified.com
Credit to: 김형우 기자 – newsen.com
Original Article: LINK